Labrador Retriever Breeders
Breeder Listings by Region
5475 Highway 511
Lanark, Ontario
K0G 1K0
Tel.: 902-757-0543
E-mail: huntersbest@outlook.com
Website: www.huntersbestlabs.com
Huntersbest Labradors is a family run breeding and training located on 70 acres of training grounds with multiple ponds. We are permanently registered with the Canadian Kennel Club and have been breeding for twenty years. The goal of our breeding program is to produce good looking, intelligent and genetically clean Labrador Retrievers that carry on the breeds hunting instincts. At the same time we seek animals with quite friendly demeanors enabling them to be outstanding house companions and to safely interact with children of all ages. We achieve our breeding goals by line breeding and by select outcrosses to other outstanding performers.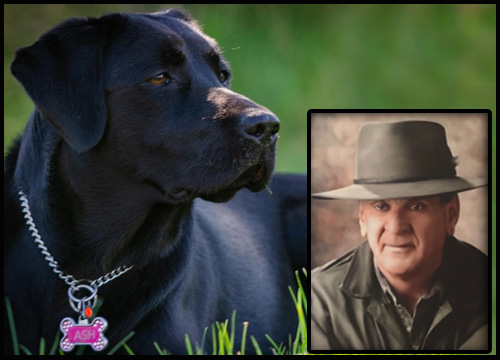 16 Memorial Drive
Dartmouth, Nova Scotia, B2W 3P1
Cell.: 902-222-5696
Home: 902-465-3814
E-mail: double_b123@hotmail.com
Website: www.doindogs.com
Doindogs Kennel's breed all three colors of Labs, our objectives are as follows, in order of importance:
1.  Health
2. Temperament & Trainability
3.  Working Ability
4.  Show Qualities
Our foundation bloodlines are from Kadnook Kennels in Australia, www.kadnook.com and from Kerrybrook Kennels, Ohio. I have chosen these kennels because their objectives were the same as mine — healthy happy dogs. Both these kennels produce dogs well suited as working dogs or show dogs but in the meantime are great family pets. Their accomplishments are well documented on their sites. My site www.doindogs.com has pictures, health clearances, titles and other associated documents for each dog.
— Puppies Available in all Three Colours —
470 Colony Road
Bobcaygeon, Ontario  K0M 1A0
Tel.: 705-738-6716
E-mail: bellbrooke@hotmail.com
Website: www.bellbrookelabs.com
Facebook: www.facebook.com/bellbrookelabs
CKC registered Labrador Retrievers. Chocolate, Black & Yellow.
All puppies are veterinary inspected, vaccinated & microchipped. CKC registration & transfer of ownership with non-breeding agreement. Written health guarantee. Raised in our smoke-free home. Four generation pedigree. Excellent field and champions in bloodlines. Healthy, energetic pups. Highly motivated, and very trainable.
CKC member breeder with over 45 years of experience, adhering to the CKC Member Code of Ethics & the CKC Breeder Code of Practice. Reservations accepted in advance to approved homes, and confirmed by deposit only. Serious enquiries are invited.
We feed and recommend TLC pet food. Free delivery direct to your home & $5 off your first order. tlcpetfood.com/nutrition/bellbrookelabs
RR #1
Three Hills, Alberta  T0M 2A0
E-mail: starstrucklabradors@gmail.com
Website: www.starstrucklabradors.com
Starstruck Labradors breeds quality CKC Labrador Retrievers for loving pet homes. We offer LIFETIME warranty, LIFETIME return policy, and LIFETIME breeder support. Starstruck Labradors places an emphasis on ethical breeding and business practices.
We take good care of our canine family, screen our breeding dogs for health issues, and donate to the community. We look forward to getting to know you, and having you out for a full tour of our kennel facilities. We firmly believe it is important you visit your breeder, and meet their whole canine family!
– Carleton and Valina Pope
For additional information, visit our website at: www.starstrucklabradors.com
4131 McLean Road
Quesnel, British Columbia, V2J 6V1
Tel.: 250-992-5253
E-mail: erin@kinderdoggin.com
Website: www.eromit.com
Performance-bred Labradors for active families & competitors. Home of high drive, high achieving Hunt Test, Field Trial, Agility, Obedience, Dock Diving, Rally and Flyball dogs; Waterfowl, Shed Antler and Blood-Trailing Hunting dogs; Detection and Search & Rescue dogs.
Carefully selected breeding stock from top working lines are chosen based on health, temperament/trainability, natural hunting instincts, and structure/athleticism. We screen for genetic health issues (OFA/EIC/CNM/PRA/RD) and offer an extensive health warranty with lifetime breeder support.
Black, Yellow & Chocolate puppies are born in our home where they receive 24/7 care, our super-socialization program, and are meticulously prepped for their future careers. Advanced reservations are recommended.
See www.eromit.com for full details.
Canaan, Nova Scotia
Tel.: 902-679-LABS(5227)
E-mail: scott.gouthro@ns.sympatico.ca
Website: www.southrocklabs.com
Southrock Labradors is a CKC Registered Labrador Retriever Breeder located in Canaan, Nova Scotia. We feel that keeping the hunting aspect in our pups creates a more rounded and willing to please pup. That's why, at Southrock Kennels at home or in the field, they're at your side.
All of our breeding parents are certified for eyes, hips and elbows and all puppies are guaranteed against hips and eye issues.
For more information, visit our website at: www.southrocklabs.com
241013 Concession Road 2-3
Grand Valley, Ontario
L9W 0R7
Cell.: 519-943-2591
E-mail: greydenlabradors@gmail.com
Website: www.greydenlabradors.ca
We are a small country kennel and all of our dogs live inside.
We have been breeding Labradors for over 20 years. All of our breeding stock have appropriate clearance for hereditary problems and we pride ourselves with pedigrees and breed only quality Labradors. We only breed Yellow. All of our puppies are home raised and well socialized in a farm environment.
The Kennels of Greyden Farms are now settled in the beautiful countryside of South Luther – on the border of Wellington North and Dufferin County, in the Town of Grand Valley, Ontario.
We live on a designated heritage family farm, in a restored brick farmhouse on 100 acres, so our Labradors are fortunate enough to enjoy lots of space in which to run and play. Our newly built facility now houses all of our dogs in comfort, and we have finally moved and settled in, and very proud of our new home.
Most importantly, all of our dogs are first and foremost family pets, they are fit and healthy and very much part of our family life.
We have moved! New address – 241013 Concession Road 2-3, Grand Valley, Ontario
For further details, visit our website at: www.greydenlabradors.ca

Kirkfield, Ontario
Tel.: 519-217-4510
E-mail: littlebitofglory@gmail.com
Website: www.glorylandlabradors.com
If you are looking for a healthy, truly socialized, home and family raised English Labrador puppy, with an amazing personality and temperament, you have found us.
We are a small family run business, nestled in Kirkfield, just a short distance from Toronto. We live on 42 acres where our labs are living inside our home. Puppies are hand raised and socialized for the ENTIRE 8 weeks, never going to an outside building. This ensures their positive transition to a home with both humans and other pets. We never rehome our older dogs, they retire here with us. Our senior dogs enjoy their retirement years here with us.
Our dogs come from a long line of Grand Champion and Championship dogs. We have appropriate health clearances for genetic abnormalities that labs can carry. We pride ourselves with the quality of our dogs and puppies.
We have both parents on site, sire and dams are here to see them run, ensure health, inspect their look and behaviour. This allows perspective parents to make an informed decision, not from a picture but from actually seeing our pets.
When choosing a Gloryland puppy, you are choosing quality over quantity. We only breed one litter per year, per girl. We don't have multiple litters at one time, this gives us time to properly socialize and train our puppies.
Contact us for more information: littlebitofglory@gmail.com or 519-217-4510
The Complete Guide to Labrador Retrievers
Selecting, Raising, Training, Feeding, and Loving Your New Lab from Puppy to Old-Age
- Click for Breeder Advertising Options -
If you would like to advertise on the Canada's Guide to Dogs website, please select from the following links for advertising options and details:
BASIC ADVERTISEMENT
— A basic text advertisement that includes full contact information, including links to websites, social media, and email.
DELUXE ADVERTISEMENT
— A Photo advertisement with up to 100 words of text as well as all "Basic" information.
FEATURED BREEDER DISPLAY ADVERTISEMENT ***
— (*** Available exclusively to Deluxe Listing Advertisers.) Large graphic display page advertisements rotated amongst participating breeders.
"WE HAVE PUPPIES" GRAPHIC LINK
— (Available to all listed Breeders.) Graphic added to advertisements or text links. (We do not provide a "Puppies for Sale" Classifieds type section.)
"STUD SERVICE"
— (Available to all listed Breeders.) Graphic added to advertisements or text links.
BANNER ADVERTISEMENTS
— Click here to view additional advertising options.
FREE TEXT LINK
— Complete the "Breeder Questionnaire" to have your text link added to the listing.
---
IMPORTANT NOTE:
If you are considering the adoption of a puppy of any breed, it is very important to be selective in choosing a responsible and reputable breeder. While it is our goal on this website to only include listings of responsible and ethical breeders of purebred dogs, and there is certain criteria that must be met in order to be listed, we can only rely on the honesty of those submitting the request. Therefore, we cannot recommend, nor do we endorse or support any one of these listings. If you are looking to purchase a puppy, it is your responsibility to do your research in learning what to look for in a breeder. (For more information on selecting a breeder, see the articles on the main Breed/Breeders section: Information for the New Puppy/Dog Owner.)

In addition to the Breeders listed here, the Breed Clubs generally include listings of member Breeders on their web sites and, if not, then a listing can usually be obtained either by e-mail or telephone. We do not randomly add Breeders to any listing. All Breeders listed have requested to be included either via a general link or paid advertising.

If a young pup is not an absolute requirement for you, then considering the adoption of a dog from a rescue organization or shelter is strongly recommended. Each individual breed section on the Canada's Guide to Dogs web site includes listings of Rescue Organizations specific to the breed. In addition, Breeders occasionally have young adults available and many also take in rescued dogs. To learn more about adopting a rescue dog, please see the Rescue Organizations & Shelters section of the web site. This section includes several articles and general information along with listings of shelters and rescue organizations that are not breed specific from across Canada.

The purchase or sale of any dog is strictly between the buyer and seller. Accuracy of information for all advertisements is the sole responsibility of the advertiser and we cannot be held responsible for any misrepresentation.
— CanadasGuideToDogs.com is an Amazon Associate as well as a participant in various affiliate programs, as such fees are earned from qualifying purchases.