West Highland White Terrier Breeders
St.Catherine area, Ontario
Tel.: 905-262-6653
E-mail: pennybelle@bell.net
Website: www.raglanwestie.com
Life member of WHWTCA and the CKC.
With a careful selection of the most reputable bloodlines. We have been breeding Westies for 40 years. Through the years we won a number of awards but we feel that health and temperament are most important; special attention is given to the immune system.
All our Westies live in our home as family members, "because we care." All our pets are sold on a CKC non-breeding agreement.
295159 8th Line
Amaranth, Ontario
L9W 0K1
Tel.: 519-925-2827
E-mail: laryssasawyer@gmail.com
Website: www.cedarcreekkennels.ca
Cedar Creek Kennels is located on a 100 acre farm just over an hour North of Toronto. We breed both West Highland White Terriers and Cavalier King Charles Spaniels. We are members of the Canadian Kennel Club. Our puppies are raised in our home so they get the love and attention they deserve and spend lots of time with our three children so they become socialized at a young age. When our puppies go to their new homes, they are dewormed, vet checked, have their first set of shots, are microchipped, will be registered with the Canadian Kennel Club and come with a one year health guarantee.
For pictures or more information, please visit our website at: www.cedarcreekkennels.ca or email: laryssasawyer@gmail.com
14708 Fifteen Mile Road
Denfield, Ontario,   N0M 1P0
Tel./Fax: 519-666-1049
E-mail: bhack@live.ca
Website: www.westiepuppies.ca
Life member of CKC (50 years). Through this time we have pursued and selected only indiviuals who were complimentary to the breeding of quality puppies. Conformation, health and temperament have been a priority. Puppies go to their new homes CKC registered, microchipped, vaccinated, and with a one year health guarantee. Puppies sold as pets are on CKC non-breeding agreements. We are located 15 minutes north of London.
Breeder Listings by Region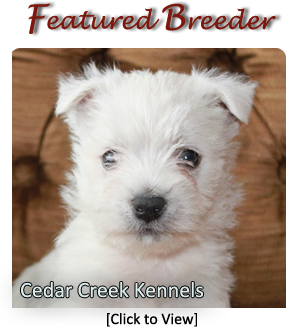 - Click for Breeder Advertising Options -
If you would like to advertise on the Canada's Guide to Dogs website, please select from the following links for advertising options and details:
BASIC ADVERTISEMENT
— A basic text advertisement that includes full contact information, including links to websites, social media, and email.
DELUXE ADVERTISEMENT
— A Photo advertisement with up to 100 words of text as well as all "Basic" information.
FEATURED BREEDER DISPLAY ADVERTISEMENT ***
— (*** Available exclusively to Deluxe Listing Advertisers.) Large graphic display page advertisements rotated amongst participating breeders.
"WE HAVE PUPPIES" GRAPHIC LINK
— (Available to all listed Breeders.) Graphic added to advertisements or text links. (We do not provide a "Puppies for Sale" Classifieds type section.)
"STUD SERVICE"
— (Available to all listed Breeders.) Graphic added to advertisements or text links.
BANNER ADVERTISEMENTS
— Click here to view additional advertising options.
FREE TEXT LINK
— Complete the "Breeder Questionnaire" to have your text link added to the listing.
---
IMPORTANT NOTE:
If you are considering the adoption of a puppy of any breed, it is very important to be selective in choosing a responsible and reputable breeder. While it is our goal on this website to only include listings of responsible and ethical breeders of purebred dogs, and there is certain criteria that must be met in order to be listed, we can only rely on the honesty of those submitting the request. Therefore, we cannot recommend, nor do we endorse or support any one of these listings. If you are looking to purchase a puppy, it is your responsibility to do your research in learning what to look for in a breeder. (For more information on selecting a breeder, see the articles on the main Breed/Breeders section: Information for the New Puppy/Dog Owner.)

In addition to the Breeders listed here, the Breed Clubs generally include listings of member Breeders on their web sites and, if not, then a listing can usually be obtained either by e-mail or telephone. We do not randomly add Breeders to any listing. All Breeders listed have requested to be included either via a general link or paid advertising.

If a young pup is not an absolute requirement for you, then considering the adoption of a dog from a rescue organization or shelter is strongly recommended. Each individual breed section on the Canada's Guide to Dogs web site includes listings of Rescue Organizations specific to the breed. In addition, Breeders occasionally have young adults available and many also take in rescued dogs. To learn more about adopting a rescue dog, please see the Rescue Organizations & Shelters section of the web site. This section includes several articles and general information along with listings of shelters and rescue organizations that are not breed specific from across Canada.

The purchase or sale of any dog is strictly between the buyer and seller. Accuracy of information for all advertisements is the sole responsibility of the advertiser and we cannot be held responsible for any misrepresentation.
— CanadasGuideToDogs.com is an Amazon Associate as well as a participant in various affiliate programs, as such fees are earned from qualifying purchases.