Ontario, Canada
E-mail: brownpoodles@yahoo.com
Website: www.bijoupoodles.com
Health & Temperament is our Priority.
Rich Red and Dark Brown is our Specialty.
Each of our Poodle parents are calm, loving, have all Health Testing completed,
are Champions, and have Working/Performance and Temperament Titles.
We go the extra mile for you, because only the best will do!
Shipping world wide, to loving homes. Stud Service Available.

1859 Chimney Lake Road
Williams Lake, British Columbia
V2G 4W2
Tel.: 250-392-3658
E-mail: johnstonjudi@hotmail.com
Website: www.khalsapoodles.com
We have been raising Standard Poodles for 25 years, and are the home of many Champions, Obedience title holders, and last, but most important, clean, healthy, mentally stable companions. We breed genetically tested, screened dogs, many from imported bloodlines. Although we would like to personally meet potential puppy owners,(we will deliver to Fraser Valley or Kamloops) and will fly puppies to most safe destinations. We breed blacks, creams, and whites.
Puppies born May 28th and May 29th 2018. Puppies currently Available.
For further details, please visit our website: www.khalsapoodles.com.

292201 TWP RD 262A
Rocky View County, Alberta, T4A 0N2
Tel.: (403) 226-2949; Fax: (403) 226-2950
E-mail: cgraham@nucleus.com
Website:www.nucleus.com/~cgraham
Crystalton/Averina has been around for over 40 years, having produced some of Canada's top winning dogs, as well as many top winners in the U.S. Many have done extremely well in the obedience ring and agility. Our main objective is to breed for health and temperament. We fully guarantee the health as we do all the health testing and keep it current every year. (Testing: OFA Hips, OFA S.A. (skin punch) CERF eyes, VWD and Thyroid, OFA NE.)
Our puppies are home raised in a clean and healthy environment, and are all temperament tested before being placed in new homes to ensure the right puppy gets to the right home.
Crystalton Kennels is Proud to Announce that
We Had The Number One Dog of All Breeds In Canada in 2014
With 50 Best In Shows — Can Am Gr Ch Crystalton Suspence
Kennel visits are welcome — We are located 5 minutes from Calgary.
For further information, please see our website at: www.nucleus.com/~cgraham
RR #3
Ayton, Ontario,  N0G 1C0
Tel.: (519) 334-3916
E-mail: cherieperks@xplornet.ca
Website: www.redstandardpoodles.net
Facebook: www.facebook.com/redpoodlepups
Red, apricot and occasionally black puppies. Health and temperament are our priorities. Stunning and healthy from an ethical breeder. Fully health tested parents, low COI's and solid temperaments beyond your expectations. Most of our litters come from Champion parents. Our puppies are raised in our home and not in a kennel. I have been involved in this glorious breed to some degree for over 50 years. As a child, my Mother Gloria Kyle, bred under the prefix Cherod and she showed and bred and groomed me from the age of seven to follow in her footsteps.
Our puppies come to you CKC registered, micro-chipped, age appropriate shots, de-worming complete, vet checked, tail docked and dew claws removed. You receive a comprehensive puppy package which includes a collar and leash, health record, 5 generation pedigree, blanket with scent of Mom and siblings, food, coupons, book on welcoming puppy into the home, CD of photos and videos of puppies first eight weeks. We offer a two year health guarantee and lifetime support and encourage our puppy families to stay in contact.
Stud service available.
Please visit our website at www.redstandardpoodles.net and be sure to
like our Facebook page at www.facebook.com/redpoodlepups

2724 River Road, R.R.#5
Cayuga, Ontario
N0A 1E0
Tel.: 905-772-5669
E-mail: sweetannies@optionsdsl.ca
Website: www.adoreannies.com
Beautiful, well socialized pups living as family members. Whites, apricots, blacks. All parents are DNA tested by Optigen. I have shown parents in the show ring only to prove how beautiful my babies are.
At 8 weeks of age, all pups are vet examined and receive their first booster. Of course they are all dewormed and are sold with a non-breeding contract, health guarantee and vet record. Loving families wanted only.
Registered with The Canadian Kennel Club
For details, please visit our website: www.adoreannies.com
Breeder Listings by Region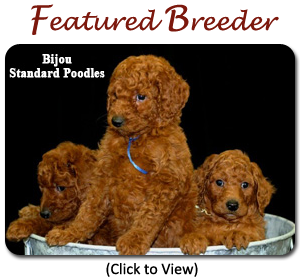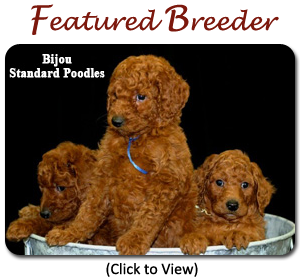 - Click for Breeder Advertising Options -
If you would like to advertise on the Canada's Guide to Dogs website, please select from the following links for advertising options and details:
BASIC ADVERTISEMENT
— A basic text advertisement that includes full contact information, including links to websites, social media, and email.
DELUXE ADVERTISEMENT
— A Photo advertisement with up to 100 words of text as well as all "Basic" information.
FEATURED BREEDER DISPLAY ADVERTISEMENT ***
— (*** Available exclusively to Deluxe Listing Advertisers.) Large graphic display page advertisements rotated amongst participating breeders.
"WE HAVE PUPPIES" GRAPHIC LINK
— (Available to all listed Breeders.) Graphic added to advertisements or text links. (We do not provide a "Puppies for Sale" Classifieds type section.)
"STUD SERVICE"
— (Available to all listed Breeders.) Graphic added to advertisements or text links.
BANNER ADVERTISEMENTS
— Click here to view additional advertising options.
FREE TEXT LINK
— Complete the "Breeder Questionnaire" to have your text link added to the listing.
---
IMPORTANT NOTE:
If you are considering the adoption of a puppy of any breed, it is very important to be selective in choosing a responsible and reputable breeder. While it is our goal on this website to only include listings of responsible and ethical breeders of purebred dogs, and there is certain criteria that must be met in order to be listed, we can only rely on the honesty of those submitting the request. Therefore, we cannot recommend, nor do we endorse or support any one of these listings. If you are looking to purchase a puppy, it is your responsibility to do your research in learning what to look for in a breeder. (For more information on selecting a breeder, see the articles on the main Breed/Breeders section: Information for the New Puppy/Dog Owner.)

In addition to the Breeders listed here, the Breed Clubs generally include listings of member Breeders on their web sites and, if not, then a listing can usually be obtained either by e-mail or telephone. We do not randomly add Breeders to any listing. All Breeders listed have requested to be included either via a general link or paid advertising.

If a young pup is not an absolute requirement for you, then considering the adoption of a dog from a rescue organization or shelter is strongly recommended. Each individual breed section on the Canada's Guide to Dogs web site includes listings of Rescue Organizations specific to the breed. In addition, Breeders occasionally have young adults available and many also take in rescued dogs. To learn more about adopting a rescue dog, please see the Rescue Organizations & Shelters section of the web site. This section includes several articles and general information along with listings of shelters and rescue organizations that are not breed specific from across Canada.

The purchase or sale of any dog is strictly between the buyer and seller. Accuracy of information for all advertisements is the sole responsibility of the advertiser and we cannot be held responsible for any misrepresentation.