Portuguese Water Dog Breeders
Breeder Listings by Region

Marion Bridge, Nova Scotia
Tel./Fax: 902-727-2945
E-mail: sharminkporties@gmail.com
Website: www.sharmink.com
Our puppies are raised in our kitchen/dining room area so they can get use to all kinds of activity. They are checked by our Vet, given their first shots and are micro chipped. They are registered with the CKC.
The parents have all of their health clearances that need to be done for our breed. We give a two year guarantee. We are also willing to give references.
Visitors are welcomed to our kennel anytime.
2297 Drummond Line
Keene, Ontario
K9J 0G6
Tel: 705-927-7779
E-mail: kamolotkennels@gmail.com
Website: www.kamolotkennels.com
We are a small family run kennel. All our dogs are GM1 Storage tested, PRA for eyes, OFA for hips and elbows. We give a two year guarantee with our puppies against any hereditary problem that would cause the death of the puppy.
We have puppies occasionally. Our puppies are raised in our home with us, well socialized. References are available.

Cambridge, ON
Cell: 519-590-4619
E-mail: lunanovapwds@gmail.com
Website: www.pwds.ca
At Luna Nova Kennels, we strive to breed loving family pets. We are a small, home-based, family oriented kennel located on a beautiful acre of property in Cambridge, Ontario.
Our main objective is being commited to doing everything in our power, and use all the means available, to breed healthy, well-tempered, intelligent puppies.
Our pups are born in a "puppy room" on the main level of our house, and raised in our busy, bustling househould with our children and other dogs. At our house, there is little distinction between the kids and the dogs, as they are all important family members!
Our puppies come from established championship breed lines. Our adult dogs have comprehensive health clearances, and are known for the health, temperament, structure and trainability of their offspring.
For further information, please visit our website: www.pwds.ca

Oro Medonte, Ontario
Tel.: 705-329-1299
E-mail: belouro@rogers.com
Website: www.belouropwd.com
Belouro Reg'd est. 1995.
Dedicated to optimal health, correct temperament, structure/type selectively breeding from at least Champion blood lines.
Members PWDCC, PWDCA, CKC and Member Breeders PWDCC.
Parents are individually health tested as per the PWDCC recommended health tests for breeding. Puppies are placed under full written health guarantee, contract, CKC registered. We are participants in the Georgie Project, The Portuguese Water Dog Foundation Inc., the PWD Health & Litter database and OFFA database.
Belouro® home of Multiple Best In Show, Top Show Dog Award winners in Canada & USA, titled in Breed specific Water Work, Agility, Certified Therapy Dogs. True to the breed — sound, active, loyal companions, family pets available to select families, inquiries welcome.
Please visit our website – www.belouropwd.com for more details.
Campbellford, Ontario
Tel.: 705-924-2509
E-mail: c_reg_4@hotmail.com
Website: www.portuguesewaterdogsatricelake.com
We are a home based kennel where we provide an abundance of love and care towards our dogs. Our dogs live in our home and are part of our family life. We only use selectively screened dogs in our breeding program. Our goal is to provide families with a healthy companion that will give them unconditional love. Our dogs have had all testing PRA, IC, GMI, JDCM & Hips graded thru OFA.
I have been a member in good standing with the CKC for 24 years.
All of our puppies are sold CKC Registered, non-breeding contract, micro-chip, first shots and two year health guarantee.
For more information, please visit our website at: www.portuguesewaterdogsatricelake.com,
email: c_reg_4@hotmail.com or call 705-924-2509.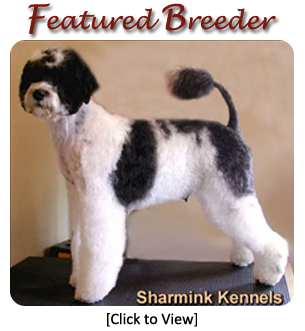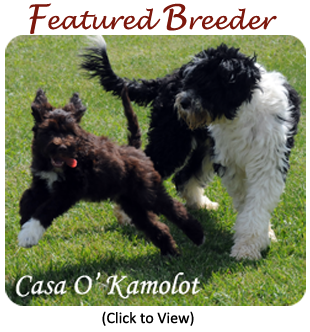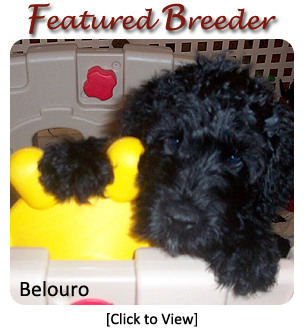 PORTUGUESE WATER DOG Expert Dog Training
"Think Like a Dog"
Here's Exactly How to Train Your Portuguese Water Dog
- Click for Breeder Advertising Options -
If you would like to advertise on the Canada's Guide to Dogs website, please select from the following links for advertising options and details:
BASIC ADVERTISEMENT
— A basic text advertisement that includes full contact information, including links to websites, social media, and email.
DELUXE ADVERTISEMENT
— A Photo advertisement with up to 100 words of text as well as all "Basic" information.
FEATURED BREEDER DISPLAY ADVERTISEMENT ***
— (*** Available exclusively to Deluxe Listing Advertisers.) Large graphic display page advertisements rotated amongst participating breeders.
"WE HAVE PUPPIES" GRAPHIC LINK
— (Available to all listed Breeders.) Graphic added to advertisements or text links. (We do not provide a "Puppies for Sale" Classifieds type section.)
"STUD SERVICE"
— (Available to all listed Breeders.) Graphic added to advertisements or text links.
BANNER ADVERTISEMENTS
— Click here to view additional advertising options.
FREE TEXT LINK
— Complete the "Breeder Questionnaire" to have your text link added to the listing.
---
IMPORTANT NOTE:
If you are considering the adoption of a puppy of any breed, it is very important to be selective in choosing a responsible and reputable breeder. While it is our goal on this website to only include listings of responsible and ethical breeders of purebred dogs, and there is certain criteria that must be met in order to be listed, we can only rely on the honesty of those submitting the request. Therefore, we cannot recommend, nor do we endorse or support any one of these listings. If you are looking to purchase a puppy, it is your responsibility to do your research in learning what to look for in a breeder. (For more information on selecting a breeder, see the articles on the main Breed/Breeders section: Information for the New Puppy/Dog Owner.)

In addition to the Breeders listed here, the Breed Clubs generally include listings of member Breeders on their web sites and, if not, then a listing can usually be obtained either by e-mail or telephone. We do not randomly add Breeders to any listing. All Breeders listed have requested to be included either via a general link or paid advertising.

If a young pup is not an absolute requirement for you, then considering the adoption of a dog from a rescue organization or shelter is strongly recommended. Each individual breed section on the Canada's Guide to Dogs web site includes listings of Rescue Organizations specific to the breed. In addition, Breeders occasionally have young adults available and many also take in rescued dogs. To learn more about adopting a rescue dog, please see the Rescue Organizations & Shelters section of the web site. This section includes several articles and general information along with listings of shelters and rescue organizations that are not breed specific from across Canada.

The purchase or sale of any dog is strictly between the buyer and seller. Accuracy of information for all advertisements is the sole responsibility of the advertiser and we cannot be held responsible for any misrepresentation.
— CanadasGuideToDogs.com is an Amazon Associate as well as a participant in various affiliate programs, as such fees are earned from qualifying purchases.