Sports and Activities for You and Your Dog
There are so many different sports and activities that you can do with your dog — suitable for dogs of all shapes and sizes, young and old alike — Select from the following links which provide details, descriptions and articles about several activities/sports, arranged in alphabetical order.
Agility — In Canada, Agility is now the fastest growing dog sport in the country and is enjoyed by people of all ages and dogs of all kinds.

(Updated: 2 May 2012)

Backpacking / Hiking — Any size or shape of dog can enjoy backpacking but there are a few issues to consider before getting started.

(Updated: 25 May 2012)

Beagling — The sport of Beagling was first developed around 1400 AD.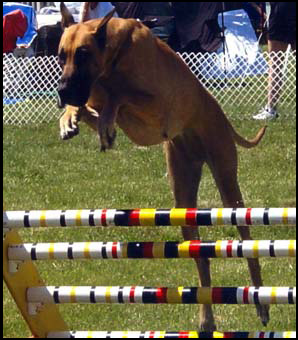 Camping With Man's Best Friend — Camping is an activity that can be enjoyed by all types of dogs.
Canicross: An Easier Way to Run With Your Dog — Canicross — for "canine" and "cross-country" — is the sport of running or walking behind a dog in harness. Mushers and skijorers, canicross when there's no snow to stay fit. Now, runners, hikers and dog lovers are discovering the sport, which offers fun and health benefits for you and your dog.

(Added: 2 May 2012)

Canine Good Citizen / Canine Good Neighbour — These are certification programs that test dogs that have the training and demeanor to be reliable family members as well as good-standing community members.
Canoeing — Enjoying the great outdoors out on the lake with your dog is the perfect way to spend a day.
Conformation — Understanding Canadian Conformation Dog Shows and additional information.

(Updated: 2 May 2012">

Disc Dog — The sport of canine frisbee, or disc dog, is a rapidly growing sport in Canada and can be enjoyed by just about any dog. It is also a fun way for your dog to stay healthy and fit.
Dock Diving — The Joy of Dock Jumping by Tina McLaughlin

(Added: 2 May 2012)

Dog Scouts of America: Is Your Dog a Leader? Article by Jennifer Viegas Note: Although Dog Scouts of America is based in the U.S., there are a few troops throughout Canada - in Manitoba and Ontario.

(Added: 30 May 2012)

Doga — Yoga your Dog will Love — Doga is a new way to partner with your pet to experience the physical (and humans say spiritual too) benefits of yoga. All people and dogs can practice doga — fit or fat, large or small, young or old. Poses can be modified for all sizes, shapes and abilities, just like in regular yoga classes.

(Added: 2 May 2012)

Draftdog or Carting — Several breeds of dogs were specifically bred to assist people by pulling carts, wagons or sleds. As a sport, draft work can be done by almost any breed provided the equipment is proportioned to the size and strength of the dog.
Earthdog Den Trials — These are simulations of hunting situations, usually held in a field in which a dog tracks the game by scent to the constructed game's lair, burrow, or tunnel. Dachshunds and smaller terriers were bred to chase an animal out of its earth, tunnel, lair or den and to face fox, badger or otter.
Flyball — A dog relay competition whereby teams of four dogs race each other over a set of hurdles to retrieve a tennis ball. This is an excellent sport for high energy dogs who love to chase balls. Flyball is an exciting race for dogs and is the fastest growing dog sport in North America.

(Updated: 2 May 2012)

French Ring Sport — The oldest and most popular dog sport in France and one of the most exciting dog sports to reach North America.
Greyhound Racing — The information provided in this section is for those who are interested in learning more about the sport of Greyhound racing.
Herding or Stock Dog — Herding livestock is one of the oldest jobs for dogs. There are many breeds of herding dogs as well as many different types of herding. Today, dogs are still active in working with livestock and there is also the sport of herding whereby Herding Trials are held by various clubs and kennels.
Animal Related Hobbies by Lily Morgan
Hunting with Dogs — Dogs have been bred for the purposes of hunting with people for hundreds of years. Whether hunting for food or sport, various breeds of dog have been used to help flush, retrieve, sniff out and track animals for the hunter.
Hunting Dogs: Training Equipment That Is Essential — Article by Freddy Cedano
Lure Coursing — Lure coursing is a modern day version of the original practice of "coursing" sighthounds. A course is set up in a large field, using corner pulleys, string and a machine which pulls the string through all the pulleys in a set pattern so as to mimic game running away from a predator.
Mondioring — Mondioring is a FCI authorized international protection sport developed in the late 1980s. This dog sport allows competitors from around the world to compete in one common dog sport - representing French Ring, Belgian Ring, Schutzhund and KNPV.
Obedience — Competitive Obedience is another popular dog sport with several titles available.
Pointing — Information coming soon.
Rally Obedience — In Canada, through CARO, open to ALL dogs, purebred or mixed breed, pets or titled champions as well as physically challenged dogs and/or handlers.
Retrieving — Field Trials and Hunt Tests.

(Updated: 2 May 2012)

Running — Exercising Your Dog: A Dog Runner's Guide By Lindsay Stordahl

(Added: 30 May 2012)

Scent Hurdling — Information coming soon.
Schutzhund — Schutzhund is a German word meaning "protection dog." Not just a sport, Schutzhund is the historical means by which genetic breed temperament has been tested and maintained. Schutzhund training concentrates on three areas: Tracking, Obedience, and Protection work.
Scootering — Information coming soon.
Skijoring — Skijoring is Norwegian for ski driving and dates back to the gold rush days in Scandinavian countries. In Scandinavia, Skijoring is used as a training technique for Nordic-style mushing which combines one dog or more, a small sled and a skier. Skijoring caught on in North America in the 1980s and today in Canada there are competitive Skijoring races held in conjunction with dog sled races, and recreational Skijoring is also gaining popularity.
Skijoring by Shelley Ramsay
Sledding — Sled dog sports are often referred to as "mushing". There are several different types of events around the world largely dependent on tradition and climate. The three main styles are known as: Nome, Nordic and Dryland.
How to Snowshoe with your Dog — Snowshoeing with your dog is a unique and fun way to get out and enjoy the snowy winter months. It's a great workout for yourself and your dog. However, there are some things both you and your dog will need to make it a safe and comfortable adventure.

(Added: 2 May 2012)

Surfing — How to Get Your Dog Surfing this Summer (NEW - Added 31 July 2012)
Spaniel Field Trials — Information coming soon.
Tracking> — Tracking tests are designed to test a dog's ability to recognize and follow human scent as well as their ability to locate and "indicate" any items left on the track. Tracking is a team sport whereby the handler working with his/her dog demonstrates a real understanding of the dog's commitment to the task as hand. Communication between dog and handler is of utmost importance.
Treibball: Will Your Dog Dig It? — Treibball consists of your dog working off-leash and obeying your cues. Your dog uses his nose or shoulders to drive eight balls — arranged in a triangle, billiards-style — into a net goal within 10 minutes. (Read More)

(Added 2 May 2012)

Travelling with your Dog — Various articles and information about travelling with your dog.

(Updated: 30 May 2012)

Walking - The Joys of Walking Your Dog — Here's how to get the most from a daily stroll with your canine companion.

(Added 25 May 2012)

Water Rescue — Information coming soon.