1 1/2 hours N.E of Toronto, Ontario
Tel.: 705-887-9362
E-mail: kacoboxers@live.ca
Website: www.kacoboxers.com
Kaco Boxers Reg'd is a reputable breeder located in the Kawartha Lakes. We pride ourselves on importing only the highest quality and healthiest lines found in Europe. Our puppies are produced from multiple generations of Championed, health tested parents with proven longevity.
We health test for Hip Dysplasia, Sub-Aortic Stenosis, Cardiomyopathy, Thyroid Disease and Degenerative Myelopathy.
Our goal is to produce the healthiest, temperamentally sound and best looking European Boxers in all of Canada. We offer a 3 year health guarantee and life long breeder support.
Please feel free to check out our website at www.kacoboxers.com

Cape Breton, Nova Scotia
Email: lindsay@zarahboxers.com
Website: www.zarahboxers.com
We are a small, home-based breeder located on scenic Cape Breton Island, Nova Scotia. Our Boxers are raised in our home, literally underfoot and are socialized with children, other dogs and cats from a very early age. We are committed to breeding the highest quality Boxers with the loving, playful, loyal, trustworthy, intellegent temperament that exemplifies the Boxer breed and are able to feel right at home either in the conformation show ring, out playing fetch or in your living room.
For further details, please see our website: www.zarahboxers.com.
– 2 year Health Guarantee
– 6 week Vet Insurance
– Microchipped
– Canadian Kennel Club Registration
PO Box 20009, Leduc Downtown
Leduc, Alberta, T9E 6R2
Tel.: 780-271-4154
E-mail: comeau2@telus.net
Website: www.lookawaysboxersandfrenchbulldogs.ca
CKC Registered Champion and genetically screened bloodlines. Our Boxers are raised in our home with lots of love and TLC. Rocky (CKC Champion Duchwars Rakkasans) was imported from Wisconsin as a puppy and finished his Championship and was quite successful as a specials dog, with Best of Breed and Group wins. He is our family member and stud dog.
We have puppies for sale occasionally and look to find good forever homes for them. Our puppies come with a 2 year written health guarantee against genetic health problems.
Hunter River,
Prince Edward Island
Cell.: 902-218-2592
E-mail: rachelvknyff@gmail.com
Website: www.redsandboxers.com
GREAT CHARACTERS, EXCELLENT PEDIGREES,
GORGEOUS BOXERS
Highest quality and healthy lines imported from EUROPE. Fully Health Tested against the following genetic diseases:
Heart (Cardiac ultrasound, Holter testing)
Hips (Hip Displasia) x-ray
Spine (Spondylosis) x-ray
Our family has a big LOVE for the EUROPEAN BOXER! They are raised in our home along side our children. We are proud to have them be a part of our FAMILY and feel it should be no other way. OUR BOXERS bring JOY into our lives every day and we love sharing them with you! We welcome you to visit our website – www.redsandboxers.com – for more pictures and information.

Brant County, Ontario
Tel.: 289-682-5744
E-mail: ebiancale@msn.com
Website: www.biancalesboxers.com
– European & American Champion Lines
– Health Tested
– Home Raised
Gorgeous Boxers raised for health, temperament and the true Boxer look.
American and working Imported European lines.
For details, please visit our website: www.biancalesboxers.com
Site 7, Box 45, R.R. #2
Okotoks, Alberta, T1S 1A2
Tel.: 403-995-2420; Cell: 587-225-2420
E-mail: paradigmboxers@hotmail.com
Website: www.paradigmboxers.com
When it comes to searching for the right kind of dog there are many factors to consider. You'll want a dog that adapts well to children, is friendly and easy to train. Paradigm Boxers would like to introduce you to the intelligent and loyal European Boxer. Before the Boxer puppy becomes a member of your family, he/she is a big part of ours. All of our dogs take part in various activities around the house; they keep us laughing and entertained all day long too. Our Boxers are very playful and get plenty of exercise and rest.
We commit ourselves to the research of healthy bloodlines, stringent health testing, the scrutiny of the CKC, AKC and FCI breed standards, and the overall betterment of the Boxer breed. We screen for:
– Healthy hearts via cardiac ultrasound by board certified cardiologist,
– Yearly 24 hour cardiac holter tests
– ARVC DNA swabs
– Hip and patella xray to rule out dysplasia
– Spondylosis (back xray)
Please visit our website, www.paradigmboxers.com for more information, and contact us with any questions regarding our dogs or upcoming litters.
Breeder Listings by Region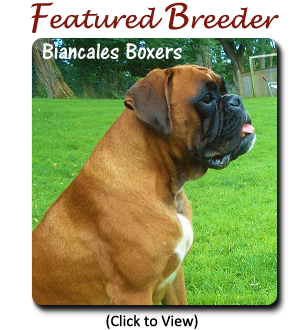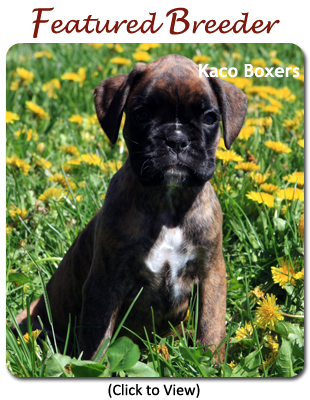 - Click for Breeder Advertising Options -
If you would like to advertise on the Canada's Guide to Dogs website, please select from the following links for advertising options and details:
BASIC ADVERTISEMENT
— A basic text advertisement that includes full contact information, including links to websites, social media, and email.
DELUXE ADVERTISEMENT
— A Photo advertisement with up to 100 words of text as well as all "Basic" information.
FEATURED BREEDER DISPLAY ADVERTISEMENT ***
— (*** Available exclusively to Deluxe Listing Advertisers.) Large graphic display page advertisements rotated amongst participating breeders.
"WE HAVE PUPPIES" GRAPHIC LINK
— (Available to all listed Breeders.) Graphic added to advertisements or text links. (We do not provide a "Puppies for Sale" Classifieds type section.)
"STUD SERVICE"
— (Available to all listed Breeders.) Graphic added to advertisements or text links.
BANNER ADVERTISEMENTS
— Click here to view additional advertising options.
FREE TEXT LINK
— Complete the "Breeder Questionnaire" to have your text link added to the listing.
---
IMPORTANT NOTE:
If you are considering the adoption of a puppy of any breed, it is very important to be selective in choosing a responsible and reputable breeder. While it is our goal on this website to only include listings of responsible and ethical breeders of purebred dogs, and there is certain criteria that must be met in order to be listed, we can only rely on the honesty of those submitting the request. Therefore, we cannot recommend, nor do we endorse or support any one of these listings. If you are looking to purchase a puppy, it is your responsibility to do your research in learning what to look for in a breeder. (For more information on selecting a breeder, see the articles on the main Breed/Breeders section: Information for the New Puppy/Dog Owner.)

In addition to the Breeders listed here, the Breed Clubs generally include listings of member Breeders on their web sites and, if not, then a listing can usually be obtained either by e-mail or telephone. We do not randomly add Breeders to any listing. All Breeders listed have requested to be included either via a general link or paid advertising.

If a young pup is not an absolute requirement for you, then considering the adoption of a dog from a rescue organization or shelter is strongly recommended. Each individual breed section on the Canada's Guide to Dogs web site includes listings of Rescue Organizations specific to the breed. In addition, Breeders occasionally have young adults available and many also take in rescued dogs. To learn more about adopting a rescue dog, please see the Rescue Organizations & Shelters section of the web site. This section includes several articles and general information along with listings of shelters and rescue organizations that are not breed specific from across Canada.
The purchase or sale of any dog is strictly between the buyer and seller. Accuracy of information for all advertisements is the sole responsiblity of the advertiser and we cannot be held responsible for any misrepresentation.