Australian Shepherd Breeders

4791 Vasey Road, R.R.#1
Victoria Harbour, Ontario
L0K 2A0
Tel.: 705-835-6846
E-mail: cheynataussies@gmail.com
Website: www.cheynataussies.com
Cheynat Australian Shepherds is a small kennel located just north of Barrie, Ontario. We have been breeding dogs since 1991. Our dogs all live in our home with us and our puppies are raised underfoot.
We believe health and temperament are the most important ingredients in our breeding program! We are very selective and only keep the best for our breeding stock! Our dogs are active in Conformation, and Agility. All breeding stock have been checked for: Hip Displasia, and Eye Disease. All puppies come with a three year guarantee.
For further information, visit our website at: www.cheynataussies.com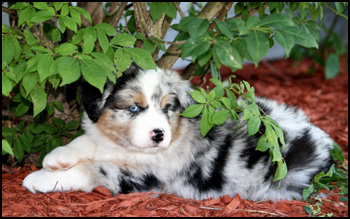 Centreton, Ontario
E-mail: cedarpaws@xplornet.ca
Website: www.cedarpaws.ca
Here at Cedarpaws we strive to raise our Australian Shepherds with beauty and brains for competition, show or companionship. Our puppies are raised in our home where they are socialized and trained daily to make the transition to their new home easier.
We are participating members of ASCA, CKC and ASCO.
For any inquiries please visit our website – www.cedarpaws.ca – and fill out the questionnaire.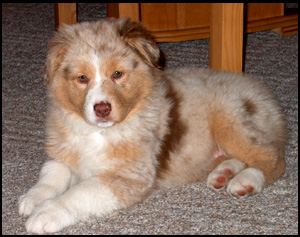 1385 Settlers Line, RR1
Keene, Ontario, K0L 2G0
Tel./Fax: 705-295-2114
E-mail: terry@terwinaussies.com
Website: www.terwinaussies.com
Terwin is nestled in the valley of the Northumberland Hills in Central Ontario, just outside the small village of Keene, Ontario, 30 km's east of the city of Peterborough. I have owned various breeds of dogs my whole life and was introduced to the Australian Shepherd in 2003. I began a two year apprenticeship as a dog trainer and I then decided it would be a great time to get a second Aussie, a female, as a companion to my male. I was now owned by two Aussies and I've never looked back. I got involved in conformation then began my breeding program. I truly love this breed and can't imagine my life without them.
These versatile, Intelligent, energetic beautiful little dogs will win your heart. To ensure this is the right pet for you, please take the time to learn about this breed as they are not for every household. These are highly intelligent animals that require a great deal of time, exercise, training both physically and mentally.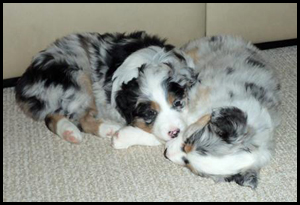 Box 195
Waubaushene, Ontario, L0K 2C0
Tel.: 705-718-7372
E-mail: info@aleshaneeaustralianshepherds.com
Web: www.aleshaneeaustralianshepherds.com

Nestled on the shores of Georgian Bay, Aleshanee Australian Shepherds is home to Hall of Fame Dam – Best in Show Ch Tuckercreek Cheyenne Aleshanee CGN, and it is through her puppies that we have built our reputation of excellence.
Our puppies thrive in Search and Rescue, Agility, Obedience and Service Work, Conformation and most importantly SOUND TEMPERAMENT.
We are members in good standing with ASCA, CKC, UKC and we share our daily lives with our Aussies, as they live in our home with us and all puppies are raised in our house.
Home to Mutiple Best in Show CKC Gr Ch / UKC Ch Aleshanee Moonshadow. Shadow is a deep blue merle, red factored and is standing at Stud to approved bitches. Also standing at stud is his son, CKC Gr Ch Aleshanee Tobey's Comet. Tobey is a black tri who is also red factored.
Puppies Available – Spring 2019
If you are looking for sound temperament and a willingness to please all wrapped up in a geneticaly sound puppy, look no further. Please contact us for more details on our current litter. Puppies should be ready to go to their forever homes mid June 2019.
All puppies are CKC registered and eligible for ASCA and UKC as well.
Please visit us at www.aleshaneeaustralianshepherds.com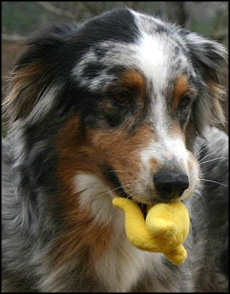 RR #1
Coldwater, Ontario, L0K 1E0
E-mail: robin.devilliers@eastlink.ca
Website: r93405.wixsite.com/robinaussies
& users.csolve.net/~robin
Home of beautiful full-tailed & bob-tailed Aussies and blue-eyed tris.
Preserving the superior bloodlines of Brightwood & Sugarbush (HOF producing since 1974). Our key Sire is ASCA's #1 Hall Of Fame Sire, Champion Briarbrook's Center Ring, "Beau", born in 1980. Beau's historic contribution continues today through our frozen semen saved on Beau. Beau's prepotency produces the True Australian Shepherd: exceptional structure, genetic clarity, outstanding instinctive temperaments in beautiful, deep-souled individuals, second to none.
Our exceptional Reds are the Hall Of Fame Redlines of Champion Windogo's Red Estaire, "Bobby", KGB This Rumours True, "Rosie" (Ch. Blueprint Moondancer daughter) and Champion Briarbrooks State Of The Art, "Chips."
Robin Aussies are highly accomplished in all venues: Conformation, Performance, Certified Therapy. Of primary importance, Robin Aussies are great family members and wonderful examples of the breed. Puppies born with full tails are NOT docked. Five Year Genetic Health Guarantee.
(ROBIN Aussies since 1993.)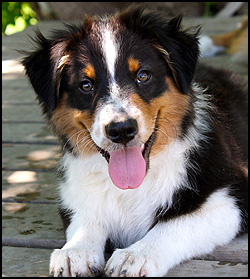 Waubaushene,Ontario
E-mail: linlogan27@hotmail.com
Website: qtaussies.wix.com/aussies
Facebook: www.facebook.com/Q.T.Aussies
We are a small hobby kennel. Our puppies are born and raised in our home. Puppies are up to date on vaccines and deworming, have had eyes examined, are microchipped, CKC registered and have a five year genetic health guarantee.
Q.T. Aussies are accomplished and competing in Agility, Obedience, Rally-O, Herding and Conformation. Not only are our dogs great athletes but are loving members of the family.
We breed occasionally and place puppies to approved homes only.
For further details, visit our website at http://qtaussies.wix.com/aussies and join us on Facebook: Q.T. Aussies.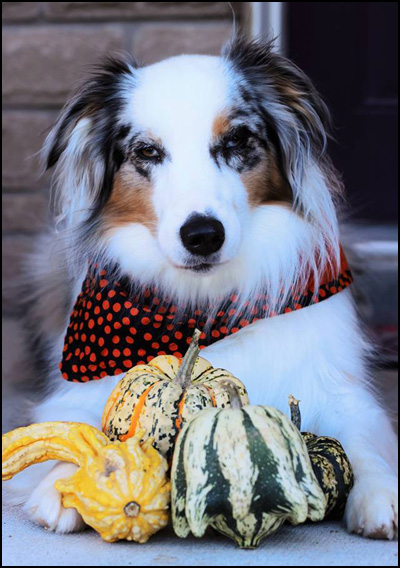 London, Ontario
Email: weststoneaustralianshepherds@gmail.com
Website: boggiesinstyle.wixsite.com/website-2
We breed occasionally and only Quality Champion Lines, Sound Mind, Excellent Temperament, and offer a 5 year Health Guarantee.
We are a very small kennel striving to preserve the best in this wonderful breed.
For more information, visit us on Facebook at: www.facebook.com/WeststoneAustralianShepherds/ or www.facebook.com/groups/1223831714362649/ or see our website at
www.boggiesinstyle.wixsite.com/website-2
Toronto Distributor for Raw Pet Food Ontario,
making monthly free deliveries from London to Toronto of our
Raw Pet Food Products and Dehydrated Treats.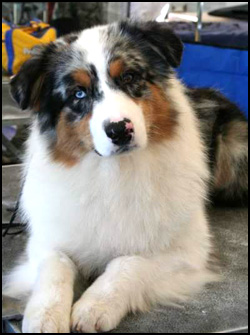 Powassan, Ontario
P0H 1Z0
Tel.: 705-978-2132
Email: dreamstorie.aussies@gmail.com
Website: schoolwork1967.wixsite.com/dreamstorie
Nestled close to Ontario's Gateway to the North, between Huntville and North Bay, Dreamstorie Australian Shepherds takes pride in our dogs and the occasional litters that we produce. We strive for quality not quantity. Our puppies are suitable for conformation, performance or as beloved family companions.
Our pups leave our home no earlier than 8 weeks of age and are microchipped, vet checked, dewormed and have their first shots. Occasionally we may have retired adults available. We offer a written health guarantee and after-sale support.
Please visit our website at schoolwork1967.wixsite.com/Dreamstorie for further information.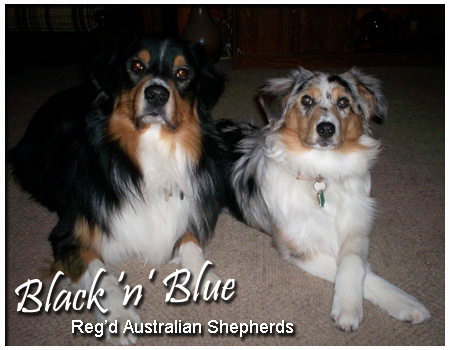 RR #1
Hillsburgh, Ontario
N0B 1Z0
Tel: (519) 855-6245
E-mail: helen@blacknblueaussies.com
Website: www.blacknblueaussies.com
Owned by Aussies since 1994, we are proud to own healthy, happy, sane examples of this wonderful breed. Our adults are all OFA certified good or excellent and 9 disease DNA health tested. Their eyes are also CERF cleared by an ophthalmologist.
Puppies are lovingly raised in our home, along with the adults where they learn how to be dogs! Youngsters are sold on non-breeding contracts to pet homes or on co-ownership to breeding/show homes, including a 5 year written genetic health guarantee.
We keep our numbers small so we can focus on what's important.
For more information, visit our website at: www.blacknblueaussies.com
Vankleek Hill, Ontario
Tel.: 613-678-2553
Email: plusaussies@gmail.com
Website: www.k9101.ca
Bev Hurst is an Australian Shepherd breeder located in Ontario, Canada. Quality not quantity is my motto. Pups are raised in a loving home environment. Parents are DNA tested for multiple hereditary health issues and are selected for their exceptional structure, temperament and trainability.
Puppies for companionship homes as well as performance homes, agility, dock diving, scent work and obedience.
Contact us if you are looking for an Australian Shepherd puppy with exceptional qualities!
For more information, visit our website: www.k9101.ca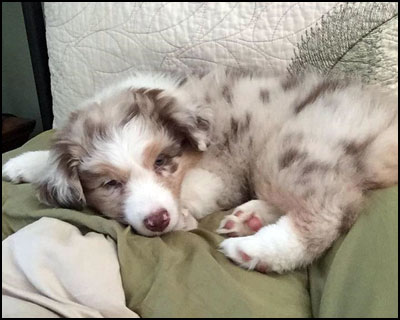 Port Hope, Ontario
Email: ecogrl10@gmail.com
Website: www.gracerokaussies.com
Facebook: /GraceRok-Australian-Shepherds
We're a small home-based Australian Shepherd preservation breeder located in the beautiful Northumberland Hills in Ontario, Canada.
We use only the best of the breed for producing litters from proven pedigrees with Champion, multi-titled parents. Our puppies will grow into Aussies that are beautiful, stable, healthy in mind and body and structurally sound and who will be your best companion for life.
Parents have eyes CERF cleared, OFA hips and elbows, are genetic panel tested and cleared. Puppies will have eyes cleared, dewormed, and first set of vaccinations.
For more information please visit our website at: www.gracerokaussies.com or find us on Facebook at www.facebook.com/GraceRok-Australian-Shepherds

Mississauga, Ontario
Tel./Cell: 647-880-3740
Website: www.vulcanaussies.com
Located near Toronto, Ontario. We are a small kennel who breeds quality Australian Shepherds for breed fancies and companion enjoyment. Our dogs reside in eight different countries and participate in various activities such as Conformation, Rally, and Obedience competitions.
All breedings are carefully thought out with health clearances. We always encourage people to contact us to get information about this breed before making a commitment. It is important to us that they have a fun filled life.
Please contact us at 647-880-3740 or email us at leo@vulcanaussies.com if you have any questions or inquiries.
For more information, please visit our website
www.vulcanaussies.com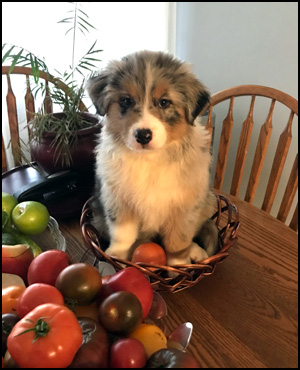 Sixmile Australian Shepherds
6663 Laird Road West
Puslinch, Ontario
N1H 6J3
Email: luana_dan@hotmail.com
Facebook: www.facebook.com/Sixmile-Australian-Shepherds/


Sixmile Kennel is a small kennel solely devoted to breeding Aussies. We are producing quality Aussies. Our puppies are suitable for conformation, performance or as beloved family companions — some of them with full natural tails.
Our puppies are CKC Registered from health tested, champion lineage. Our breeding parents have the required clear health and conformation certifications. Our pups leave our home no earlier than 8 weeks of age and are microchiped, vet checked, dewormed and have their first shots. We offer a written health guarantee and after-sale support.
We are located in the country near Guelph, Ontario, in Puslinch Ontario about one hour and a half West of Toronto.
For more information please see our Facebook page at: www.facebook.com/Sixmile-Australian-Shepherds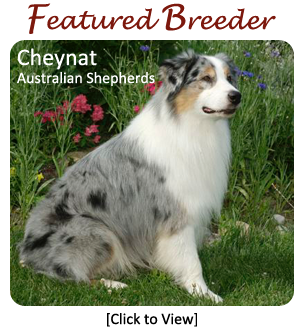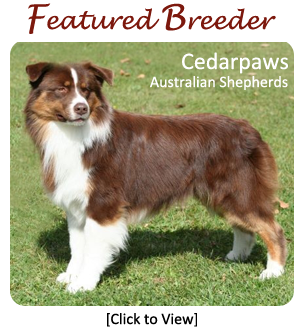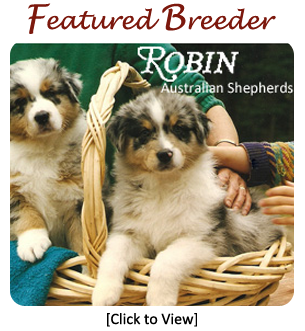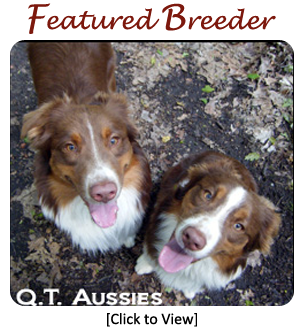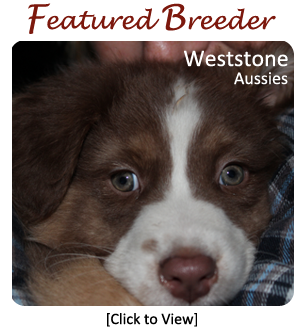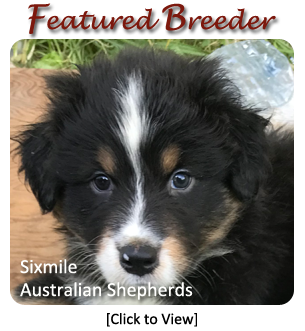 - Click for Breeder Advertising Options -
If you would like to advertise on the Canada's Guide to Dogs website, please select from the following links for advertising options and details:
BASIC ADVERTISEMENT
— A basic text advertisement that includes full contact information, including links to websites, social media, and email.
DELUXE ADVERTISEMENT
— A Photo advertisement with up to 100 words of text as well as all "Basic" information.
FEATURED BREEDER DISPLAY ADVERTISEMENT ***
— (*** Available exclusively to Deluxe Listing Advertisers.) Large graphic display page advertisements rotated amongst participating breeders.
"WE HAVE PUPPIES" GRAPHIC LINK
— (Available to all listed Breeders.) Graphic added to advertisements or text links. (We do not provide a "Puppies for Sale" Classifieds type section.)
"STUD SERVICE"
— (Available to all listed Breeders.) Graphic added to advertisements or text links.
BANNER ADVERTISEMENTS
— Click here to view additional advertising options.
FREE TEXT LINK
— Complete the "Breeder Questionnaire" to have your text link added to the listing.
---
IMPORTANT NOTE:
If you are considering the adoption of a puppy of any breed, it is very important to be selective in choosing a responsible and reputable breeder. While it is our goal on this website to only include listings of responsible and ethical breeders of purebred dogs, and there is certain criteria that must be met in order to be listed, we can only rely on the honesty of those submitting the request. Therefore, we cannot recommend, nor do we endorse or support any one of these listings. If you are looking to purchase a puppy, it is your responsibility to do your research in learning what to look for in a breeder. (For more information on selecting a breeder, see the articles on the main Breed/Breeders section: Information for the New Puppy/Dog Owner.)
In addition to the Breeders listed here, the Breed Clubs generally include listings of member Breeders on their web sites and, if not, then a listing can usually be obtained either by e-mail or telephone. We do not randomly add Breeders to any listing. All Breeders listed have requested to be included either via a general link or paid advertising.
If a young pup is not an absolute requirement for you, then considering the adoption of a dog from a rescue organization or shelter is strongly recommended. Each individual breed section on the Canada's Guide to Dogs web site includes listings of Rescue Organizations specific to the breed. In addition, Breeders occasionally have young adults available and many also take in rescued dogs. To learn more about adopting a rescue dog, please see the Rescue Organizations & Shelters section of the web site. This section includes several articles and general information along with listings of shelters and rescue organizations that are not breed specific from across Canada.
The purchase or sale of any purebred dog is strictly between the buyer and seller. Accuracy of information for all advertisements is the sole responsiblity of the advertiser and we cannot be held responsible for any misrepresentation.