Golden Retriever

Group: Sporting Group
Origin: Great Britain
Height:
– Males: 23 to 24 inches (58-61cm) at the withers
– Females: 21½ to 22½ inches (55-57cm)
Weight:
– Males: 65 to 75 lbs
– Females: 60 to 70 lbs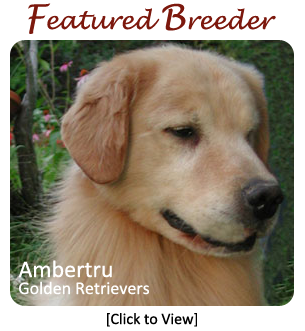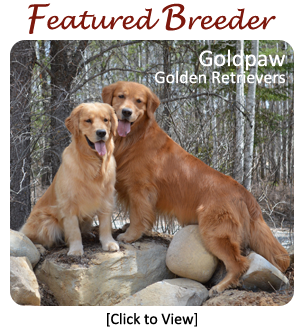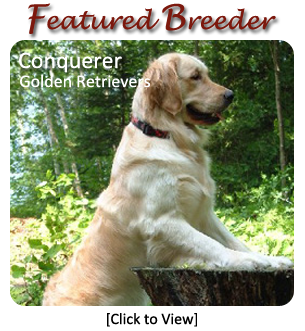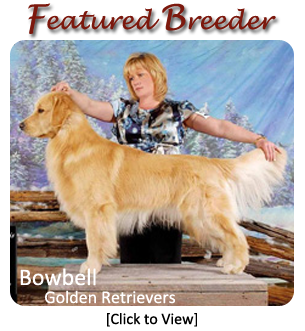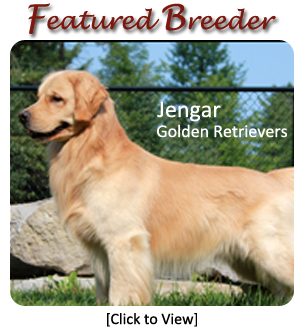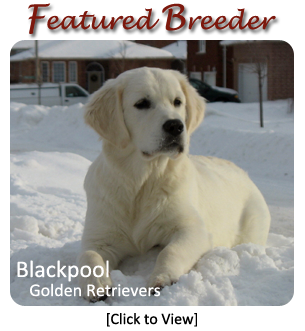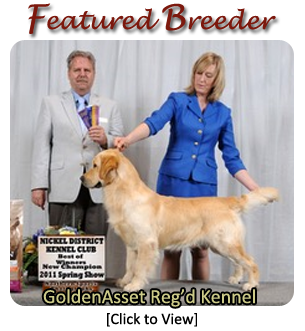 Breed Profile
The Golden Retriever is eager, alert and self-confident with a kind expression and an outstanding character. He is extremely friendly, reliable, trustworthy and devoted. Any signs of aggression toward other dogs or people, nervousness or hostility are uncharacteristic of the breed. The Golden is NOT a guard dog but a "people dog". He thrives on human companionship and must be allowed to interact with people. This is a dog who is completely devoted to his family, always happy and forever trusting and forgiving. Being a Sporting breed, he is active and energetic and, therefore, requires a fair amount of exercise including daily walks, running, and free play time.
As with many of the Retriever breeds, the Golden matures slowly, both physically and mentally. At one year of age, he will have reached his full height but will continue to gain weight for the next year or two. Mentally, the Golden will remain a puppy up to the age of two or three and many maintain their playful personality throughout their lives.
As a Sporting breed, the Golden is a wonderful hunting companion, tracking dog, and field trial competitor. His gentle nature and reliable temperament also make him an excellent candidate to work as a guide dog for the blind, assistance dog for the disabled, therapy dog, as well as working in search and rescue, avalanche rescue, drug detection, and others. He is also successful in the show ring, as an obedience competitor, in agility and, of course, he is a remarkable family companion.
The Golden's coat, one of the distinct characteristics of the breed, is dense, water repellent and lies flat against the body either straight or wavy. He should have moderate feathering on the back of the forelegs with heavier feathering on the front of the neck, back of the thighs and underside of the tail. His colour is a lustrous golden of various shades.
A Word of Caution: In part due to the popularity of the breed, the Golden Retriever is, unfortunately, at risk of irresponsible breeders attempting to cash in. If you are considering the purchase of a Golden Retriever puppy, be especially selective in choosing a responsible and reputable breeder. (For more information on selecting a breeder, see Things You Need To Know Before You Adopt a Golden Retriever Puppy as well as the articles on the General Information page.)
A Brief History of the Golden Retriever
The Golden Retriever was developed in the late 1800's in the Highlands of Scotland largely by Sir Dudley Marjoribanks (later known as Lord Tweedmouth) who had purchased a yellow, wavy-coated male Flat-Coated Retriever born amidst a litter of black pups. This dog was bred to a Tweed Water Spaniel (a breed now extinct) in 1868 and 1871 which resulted in several yellow puppies that became the foundation for the distinctive line. In time, through outcrosses with the Flat-Coated Retriever, the Irish Setter and another Tweed Water Spaniel, the breed evolved into a hunting companion with excellent scenting abilities, used to retrieve wildfowl on land and in water. By 1911, the Kennel Club (U.K.) recognized the breed as the Yellow or Golden Retriever and, in 1920, the original "Yellow" was dropped and the breed became officially known as the Golden Retriever. The American Kennel Club first registered the Golden Retriever in 1925 and the Canadian Kennel Club soon followed when it recognized the breed in 1927.
Over the years, the Golden Retriever has become one of the most popular breeds. Based on Canadian Kennel Club and American Kennel Club registrations, the Golden Retriever is the third most registered breed in Canada and the U.S., behind the Labrador Retriever and the German Shepherd Dog.
For a more detailed look at the history of the Golden Retriever, see:
Health Issues
Golden Retrievers, as with other breeds, are susceptible to some health problems, some of a genetic nature, others viral. The Health Concerns document includes information on some of the known health related issues found in the breed.
If you are considering the adoption of a Golden Retriever puppy, or any breed, it is very important to be selective in choosing a responsible and reputable breeder. Ensure that the prospective puppy's parents have all health clearances. This should include, among others, hip x-rays to exclude hip dysplasia and eyes should be checked to see that they are normal and PRA clear. Breeding of any dog should not be done until after they have been proven to be free of evidence of significant hereditary diseases. (For more information on selecting a breeder, see the articles on the General Information page.)
Additional Health Resources:
The Golden Retriever Foundation — Founded in 1997 by the Golden Retriever Club of America to fund programs that further the welfare of the breed through: Research, Rescue and Education
Health & Research — Golden Retriever Club of America
Health and Nutrition — Growing section of the Canada's Guide to Dogs website which includes information on several health and nutrition related issues.
Canine Health Information Center (CHIC) — Golden Retriever Breeds Requirements — Providing a source of health information for owners, breeders, and scientists that will assist in breeding healthy dogs. CHIC is a centralized canine health database jointly sponsored by the AKC/Canine Health Foundation (AKC/CHF) and the Orthopedic Foundation for Animals (OFA).
AKC Canine Health Foundation — Working towards developing scientific advances in canine health.
HealthGene — HealthGene Corporation is the leading provider of veterinary DNA diagnostic services in Canada.
Labgenvet — Laboratory of Veterinary Genetics is a Canadian diagnostic laboratory that offers a comprehensive service of DNA tests for veterinary genetic diseases.
Did You Know?
The first three dogs of any breed to achieve the AKC Obedience Champion title, first available in July 1977, were all Golden Retrievers.

According to the CKC and the AKC, the Golden Retriever ranks 3rd most popular breed in Canada and the United States, based on registration statistics. The breed has held this spot for several years, right behind the German Shepherd who holds the number 2 spot and the Labrador Retriever who has held the top spot for over 20 consecutive years.
Grooming Information
Golden Retrievers shed a little throughout the year with heavier shedding twice a year (Spring and Fall). Brushing should be done at least weekly and more so during the heavy shedding periods. In addition, the hair around the feet pads, the ears and tail should be trimmed monthly.
Grooming — This section of the Canada's Guide to Dogs website includes tips, articles and information covering all aspects of dog grooming along with a listing of Groomers from across Canada.
Training Resources
The Golden Retriever is intelligent and always eager to please so basic training is generally not difficult. However, he does require consistent discipline, should be handled carefully with a firm but gentle hand, and always using positive reinforcement methods.
Training — For training information, see this growing section of the Canada's Guide to Dogs website for tips, articles, as well as listings of training centres across Canada.
Famous Golden Retrievers
As a breed, the Golden Retriever is not only beautiful but his intelligence and willing temperament make him the ideal dog for many varied functions. From show dog to service dog, hunter and retriever, search & rescue dog to the many dog sports that he excels at: agility, obedience, flyball, tracking and many more, the Golden is always ready to please and perform.
The following are just a few of the countless Goldens who have been recognized for their heroic acts or have become famous in one way or another:
Hero Dogs
Golden Retrievers have been on the front lines of disasters such as the World Trade Center attacks, hurricane Katrina, the 2011 Tsunami in Japan, as well as many other natural and man-made disasters around the world. Here's a brief outline of a few such dogs:
Riley — There were many dog and handler teams involved in the search and rescue efforts during the aftermath of the tragedies of 9/11. One dog was Riley, a Golden Retriever Search & Rescue dog with FEMA's Pennsylvania Task Force 1. A photo of Riley suspended in a special harness while being hoisted across a 60 foot deep pit at Ground Zero was seen around the world. These dogs worked tirelessly to help in the recovery of the victims. When they were not in the rubble searching, the dogs offered vital comfort to the firemen, police officers, and the many volunteers simply by being there.
Austin — Austin was found and rescued as a puppy from the woods east of Houston, Texas. He was then turned over to a Greater Houston Golden Retriever Club's rescue program, where he was purchased by Texas Hearing and Service Dogs. After testing and training, he was donated to the Austin Police Department. Austin went on to be certified in Tracking, Cadaver search, and Chemical-Biological Detection. On October 28, 2000, the mayor of Austin, Texas proclaimed that date to be "K9 Austin Day" for the city of Austin. On November 11, 2000, Austin was inducted into the Texas Animal Hall of Fame and that same year he was the recipient of the AKC Award for Canine Excellence (ACE) for Search and Rescue.
Jango — Jango, the Golden Retriever was inducted into the Purina Animal Hall of Fame in 2007. On any given day, Jango spends her time greeting customers at the family grooming business and working as a Therapy Dog visiting the elderly in Trail, British Columbia. During the night of January 22, 2006, however, Jango took on another role as family savior. After Darrell tucked his four-year old son Koby into bed, he settled down to watch television. At around 12:30 am, Darrell was awakened by Jango's barking. Because Jango was usually a quiet dog, he realized within seconds that something was wrong and then noticed that the house was filled with smoke. After rushing to Koby's bedroom, he noticed that Koby was unconscious and he himself was fading fast. Darrell picked Koby up while Jango continued to bark and led them both outside to safety. The family lost virtually everything in the fire but they feel very thankful to Jango for whom they credit saved their lives that devastating night.
Brutis — A Golden Retriever named Brutis was seven years old when he received the National Hero Dog award in 2004 for his bravery. Brutis is credited in saving a young child's life when he snatched up a coral snake that was slithering dangerously close to the child.
Celebrity Goldens
Golden Retrievers are also often trained to work in various movies and television shows, including Air Bud, Fluke, Homeward Bound: The Incredible Journey, to name a few.
Buddy — Buddy was found as a stray in the Sierra Nevada mountains when he was about a year old. After being trained to play basketball, chess, baseball, football, soccer and hockey, by his owner, Kevin di Cicco, he made his first appearance on America's Funniest Home Videos and gained more fame dunking baskets on the Late Show with David Letterman. Buddy then went on to start his acting debut as "Comet" on the television show Full House and starred in the film Fluke. In 1997, he was cast as "Buddy" in the classic Disney movie "Air Bud". Sadly this was to be his final acting role due to a diagnosis of synovial cell sarcoma whereby his right hind leg needed to be amputated. Complications from the cancer led to his death a year later when he died in his sleep on February 10th, 1998. The sequel to Air Bud, Air Bud: Golden Reciever was made in his memory.
Celebrities with Goldens
The Golden is also a popular dog among the rich and famous: Betty White, Mary Tyler Moore, Pamela Anderson, Shirley Jones — are said to have all had a rescue Golden at some time.
Other celebrities who have or have had Goldens include: Jackie Chan, Jimmy Buffet, Phyllis Diller, Sally Field, Ron Howard, Enrigue Iglesias, Tom Cruise, Anderson Cooper, Sheryl Crow, Joe Cocker, Jamie Lee Curtis, Neil Diamond, Bob Newhart, Paul Newman, Christopher Reeve (an Assistance dog), Dan Marino, Morley Safer, Jerry Seinfeld, Jimmy Stewart, Oprah Winfrey, Martha Stewart, and many others.
Watch Jimmy Stewart as he reads his touching and heartwarming poem about his Golden Retriever, Beau, on The Tonight Show with Johnny Carson, in 1981:
From Service Dog to SURFice Dog
Watch surf dog Ricochet's journey from Service Dog training to surfing with quadriplegic surfer, Patrick Ivison, to fundraising for charitable causes.
A heartwarming and inspirational video. (Click the play button to watch it here.)

---
*NOTE 1: CHIC – The Canine Health Information Center "is a database of consolidated health screening results from multiple sources. Co-sponsored by the Orthopedic Foundation for Animals (OFA) and the American Kennel Club (AKC) Canine Health Foundation, CHIC works with parent clubs to identify health screening protocols appropriate for individual breeds. Dogs tested in accordance with the parent club established requirements, that have their results registered and made available in the public domain are issued CHIC numbers." To learn more, visit: www.caninehealthinfo.org


*NOTE 2: The Fédération Cynologique International (FCI) is the World Canine Organization, which includes 91 members and contract partners (one member per country) that each issue their own pedigrees and train their own judges. The FCI recognizes 344 breeds, with each being the "property" of a specific country. The "owner" countries write the standards of these breeds in co-operation with the Standards and Scientific Commissions of the FCI, and the translation and updating are carried out by the FCI. The FCI is not a breed registry nor does it issue pedigrees.

The Complete Golden Retriever Handbook
The No.1 Bestseller on Goldens!
What Goldens Teach Us
2023 Wall Calendar
— CanadasGuideToDogs.com is an Amazon Associate as well as a participant in various affiliate programs, as such fees are earned from qualifying purchases.