Information for New Puppy or Dog Owners
If you are considering bringing a dog or puppy into your home, the following articles will help guide you in your decision. Covering such topics as what type of breed is best suited for you and your family to how to go about finding a responsible and reputable breeder. Also available here, is a selection of Reference Books on the subject of choosing the right breed for you.
Please also have a look at the Rescue Section of the website for additional articles and information. Within this section you will also find listings of Rescue Organizations and Shelters from across Canada, sorted by Province. (Rescue Organizations for specific breeds are listed within the breed sections.)
---
Preparing for a Puppy/Dog:
What Does Your Dog Say About You?
What is your dog saying about you? OK, he's probably not gossiping behind your back, but the decisions you make about your pet reveal a lot about your personality. Find out what breed, size, behavior and more means! Read more

NEW - Added April 2012

Are You Ready for a Puppy or Dog? — Before you commit to bringing a new puppy or dog into your life, be absolutely positive that you are ready, willing, and capable of taking care of a dog for his or her entire life. This article, by Karen Peak of Westwind Dog Training, is written to help you make that important decision.
Simple But Powerful Ways to Ensure Your Family and Your Dog Get Along — Important tips and information to help ensure that your new dog/puppy and your children learn to get along from the start.
I Want A Pet For My Child — What you need to really consider and think about before bringing an animal into the life of your child and family.
Choosing a Breed — From the Canadian Kennel Club
Making the Right Choice — Deciding to Own a Dog — From the Canadian Kennel Club
Puppy Love
---
Choosing a Puppy/Dog:
---
Finding a Breeder:
---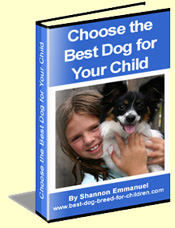 Choose the Best Dog for your Children...
Help for parents choosing a dog for their children. 5 steps to choosing the right dog and more.
4 out of 10 families give their puppy away within the first year because they didn't do their homework...
Get all the value of saving hours of research and reading dozens of expert manuals in one easy to read, simple to follow guide!
*Electronic book available in PDF Format
---
Reference Books:
Complete Idiot's Guide to Getting and Owning a Dog
by Sheila Boneham
Tips on figuring out which breed is best for you, advice on finding a responsible breeder, valuable insights into what to expect at every stage of your dog's life, more.
— Available from Amazon.com
Choosing a Dog for Life
by Andrew De Prisco & James Johnson
Choose your next canine companion using first-hand experience and advice from breeders and owners. Information on suitable owners, health concerns. Excellent color photos!
— Available from Amazon.com
"Please, Oh Please Can We Get A Dog": Parents' Guide to Dog Ownership
by Cheryl Peterson
Clear-cut advice for parents to help with the decision-making process of acquiring a dog for the family. This straightforward book is essential for any parent who needs to decide whether or not to get a dog ""for the children"" Using a realistic, no-nonsense approach, it shows parents how to evaluate what dog ownership would entail the initial and annual costs, the amount of help that children can realistically offer, the effect of a dog on the current family lifestyle, and much more. Cheryl Peterson (Woodstock, IL) is an AKC judge and the owner of a dog training school.
— Available from Amazon.com
Adopting a Dog: The Indispensable Guide for Your Newest Family Member
by John Ross, Barbara McKinney
— Available from Amazon.com
The Good, the Bad, and the Furry: Choosing the Dog That's Right for You
by Sam Stall
Author Sam Stall offers the inside poop on the world's most popular breeds-and describes which ones are right for you. Stall has consulted with dozens of breed rescue groups to learn the best-and worst-perks, quirks, and personality traits of more than 100 different dogs.
— Available from Amazon.com
Choosing a Dog for Dummies
by Chris Walkowicz
Adding a pet to the household is an exciting time but one where you need to coast, exploring the pros and cons, rather than zooming full speed ahead. Presents a wealth of information, including advice from long-time owners.
— Available from Amazon.com
Perfect Match: A Dog Buyer's Guide
by Chris Walkowicz
Helps you choose your ideal canine companion. Highlights each breed's unique qualities along with great information on who should NOT own the breed.
— Available from Dogwise.com and Amazon.com
Your Purebred Puppy, A Buyer's Guide
by Michele Welton
Discover how to select the right breed of dog for you and your family, locate a good breeder, and choose the puppy that suits your family best. Revised edition evaluates 200 breeds, including 20 new ones. Honest, thorough.
— Available from Dogwise.com