Lagotto Romagnolo

Group: Sporting Group
Origin: Italy
Height:
– Males: 17 to 19 inches (43-48 cm).
– Females: 16 to 18 inches (41-46 cm).
Weight:
– Males: 29 to 35 lbs (13-16 kgs).
– Females: 24 to 32 lbs. (11-14 kgs).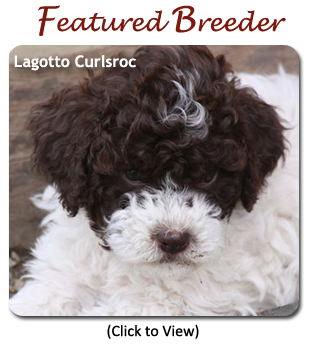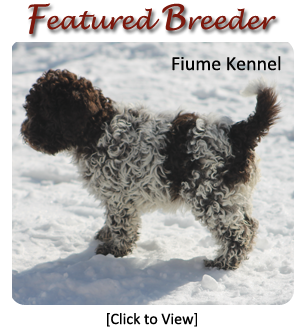 Breed Profile
The Lagotto Romagnolo (also known as the Truffle Dog) is an ancient breed of water retrieving dogs from Italy used in the marshlands to hunt waterfowl. The Lagotto is thought to possibly be the ancestor to all the water dog breeds. When the marshlands dried up, at the end of the 19th century, the Lagotto was used to search and retrieve truffles (much prized and very valuable underground tubers). He is an excellent retriever with an exceptional sense of smell. The Italian Lagotto Romagnolo Club was founded in 1988 with a population of approximately 3500 dogs. The ENCI, the Italian Kennel Club, officially recognized the breed in October 1991 and the FCI followed suit in 1995. In October 1999, the Kennel Club (U.K.) granted recognition to the breed.
Today, the Lagotto is unique in the fact that he is the only pure bred dog in the world recognized as a specialized truffle searcher. With the breed being imported to countries where truffling does not exist, the question of the breed's working function was raised. The Romagnolo consider working capabilities of the Lagotto of paramount importance and, with the founding of the World Union of Lagotto in Italy in 1998, the decision was made that the function of the Lagotto Romagnolo in countries where there is no truffling would be to remain as he was originally bred — a Water Retriever.
He is an affectionate, undemanding and devoted dog. Easily trained and always eager to please, he makes an excellent companion and good watchdog. The Lagotto gets along well with other dogs and pets and he is also known to be very good with children.
He has a wooly textured, rough-surfaced coat of thick, ring-shaped curls evenly distributed all over his body except his head where the curls are less tight and form eyebrows, whiskers and a beard. Both the outer and under coats are waterproof. He may be either solid off-white, white with brown or orange markings, brown roan, solid brown, or solid orange.
Multi-Champion Romakome Holda Hind
Photo credit:
Romakome Lagotti Romagnolo
Health Issues
If you are considering the adoption of a Lagotto Romagnolo puppy, or any breed, it is very important to be selective in choosing a responsible and reputable breeder. Ensure that the prospective puppy's parents have all health clearances. Breeding of any dog should not be done until after they have been proven to be free of evidence of significant hereditary diseases. (For more information on selecting a breeder, see the articles on the General Information page.)
Additional Health Resources:
Health and Nutrition — Growing section of the Canada's Guide to Dogs website which includes information on several health and nutrition related issues.
Canine Health Information Center (CHIC) — Providing a source of health information for owners, breeders, and scientists that will assist in breeding healthy dogs. CHIC is a centralized canine health database jointly sponsored by the AKC/Canine Health Foundation (AKC/CHF) and the Orthopedic Foundation for Animals (OFA).
AKC Canine Health Foundation — Working towards developing scientific advances in canine health.
HealthGene — HealthGene Corporation is the leading provider of veterinary DNA diagnostic services in Canada.
Labgenvet — Laboratory of Veterinary Genetics is a Canadian diagnostic laboratory that offers a comprehensive service of DNA tests for veterinary genetic diseases.
Lagotto Romagnolo Bible
Your Perfect Lagotto Romagnolo Guide.

Champion Caio and Truffle Searcher Champion
Photo: Romakome Lagotti Romagnolo
— CanadasGuideToDogs.com is an Amazon Associate as well as a participant in various affiliate programs, as such fees are earned from qualifying purchases.