Assistance / Service Dogs
General Info / Articles of Interest
Service Dogs are trained to assist people who have a wide variety of mobility impairments and other disabilities, such as seizures, psychiatric disorders, life threatening medical problems, or chronic pain. These dogs provide services to disabled individuals helping them function with greater self-sufficiency; prevent injuries; and summon help in a crisis.
Service Dogs receive approximately six months to one year of training on learning to perform various tasks, obedience, and public access manners.
---
---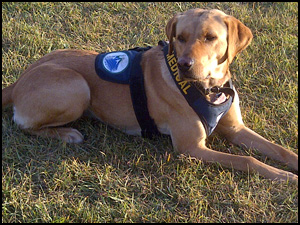 - Cancer detecting dog
Photo courtesy of:
Trailrunners K9 Training Center and Labradors
Canada's first team of Labrador Retriever cancer detecting dogs
- see
www.cancerdogs.com
Associations & Organizations:
(Listed in alphabetical order)
Autism Dog Services
"Autism Dog Services Inc. (ADS) provides service dogs to children in between the ages of 3 and 18 with autism and related disorders in Central and Southwestern Ontario. All interested applicants have the right to be considered to receive a service dog. ADS was founded in 2007 by Wade Beattie, a pioneer in the autism service dog field. ADS prides itself in providing in-home customized training to all clients. All staff have extensive experience in training and placing autism service dogs."
Website: www.autismdogservices.ca
Autism Support Dogs
A not-for-profit organization that provides support dogs to autistic children aged 4 to 12, at no cost to the family. The dog helps prevent the child from bolting and may help reduce the child's anxiety. Autism Support Dogs are certified assistance animals and may therefore accompany the child and his/her guardian in any public space.
Toll-free number: 1-877-940-4504
Email: info@autismsupportdogs.org
Website: www.autismsupportdogs.org
BC & Alberta Guide Dog Services
Dedicated to the further development of the Guide Dog movement in British Columbia. B.C. Guide Dog Services holds the aims and objectives of improved availability, and increased level of service/support through the provision of professionally trained Guide Dogs, for the visually impaired residents of British Columbia and Alberta.
The Canadian Foundation for Animal-Assisted Support Services
1010 Polytek St., Unit 14
Ottawa, Ontario, K1J 9H9
Toll Free: 1-888-473-7027
E-mail: generalinfo@cf4aass.org
Website address: www.cf4aass.org

Vision Statement: Our vision is to be the philanthropic leader that sustains the innovation, coordination, and integration of Animal-Assisted Support Services within Canada's health-care, social service, and justice sectors in order to improve the quality of life of people with physical, emotional, and social challenges.

Mission Statement: Our mission is to improve the health and quality of life of people with physical, emotional, and social challenges through partnerships with companion and service animals.

C.O.P.E. Service Dogs
Located in Barrie, Ontario
E-mail: info@copedogs.org
"Through the training and subsequent placement of special service dogs, Canine Opportunity, People Empowerment (C.O.P.E.) helps people with disabilities, challenged youth, children and people in the community achieve positive changes and growth in their lives."
Dogs with Wings Assistance Dog Society
Mission: To provide highly skilled guide and assistance dogs, and ongoing training to persons with various disabilities.
11343 - 174 Street, N.W.
Edmonton, Alberta, T5S 0B7
Email: johnw@dogswithwings.ca
Phone: 780-944-8011, Toll Free 877-252-9433
Fax: 780-944-9571
Golden Opportunity Assistance Dogs
E-mail: info@GOADogs.ca
Tel.: 519-670-1809
— "Helping youth 'at-risk' and individuals with disabilities find independence together through partnership with Assistance Dogs." Serving Southwestern Ontario, we train highly skilled service dogs for children and adults with mobility impairments (wheelchair assistance). We also offer fully trained facility dogs to work alongside professionals such as Occupational Therapists, Physical Therapists and Psychologists with their patients and clients. Part of our work involves working with youth-at-risk in a therapeutic intervention program teaching them to train service dogs for wheelchair assistance.
Handi-Dogs, Inc.
A Service Dog Training Organization located in Tucson, Arizona. — "At Handi-Dogs, Inc. we help people with physical disabilities to achieve an improved quality of life through the training and use of service dogs."
International Association of Assistance Dog Partners (IAADP)
A non-profit, cross-disability organization representing people partnered with guide, hearing and service dogs.
Lions Foundation of Canada Dog Guides
Lions Foundation of Canada is a federally incorporated charitable foundation founded by the Lions Clubs of Canada. Its mission is to provide service to physically challenged Canadians in the areas of mobility, safety, and independence.
Mira Foundation
Objective: To bring greater autonomy to handicapped people and to facilitate their social integration by providing them with dogs that are fully trained to meet the needs of each individual, including Guide Dogs.

National Service Dogs Training Centre Inc. (NSD)
NSD specializes in breeding, raising, training, and placing Autism Service Dogs with families and children living with autism.
Pacific Assistance Dog Society
PADS' mission is to raise and train dogs for people who are facing the daily challenges of life with a disability other than blindness, in order to provide a greater level of independence and an enhanced quality of life. Serving people in B.C., Alberta, Saskatchewan and Manitoba.
Sport Dog Training Center
Our mandate is to work with people in Southern Ontario who need help choosing, and training their own PTSD or alert dog, and to provide highly reliable, trained, reliable alert dogs. Our dogs go first to people who are 'high risk', are working in high stress jobs, or have work related mental disabilities. We also provide dogs for therapy work, emotional support, and provide an ambassador to raise awareness. We offer lifetime support to anyone with a service dog, or needs to obtain a service dog.
Email: info@sportdogtrainingcenter.com
Phone: 519-902-4739
Therapeutic Medical Alert Service Dogs
Nova Scotia, Canada
TMA Service Dogs provides service dogs to people in Eastern Canada - with a specialty of PTSD dogs
Trailrunners K9 Training Center and Labradors
Box 940
Big River, Saskatchewan
S0J 0E0
Tel.: 306-469-8009
Fax: 306-469-5767
E-mail: info@trailrunners.ca

Trailrunners is home to working Labrador Retrievers, puppies, and, at times, trained adults. Our dogs also include Canada's first team of Labrador Retriever cancer detecting dogs — see www.cancerdogs.com. We train gun dogs, rehab aggressive dogs, and do cancer and other detection training as well. For details, visit our websites at www.trailrunners.ca and www.cancerdogs.com.
---
Above Photo:
Licorice
is the spokes dog for Friends of Ferarri Canada — An organization that provides funding for non profit organizations. Seen here at the
NSD
Photo courtesy of:
Bralex Perm. Reg'd. Labrador Retrievers
---
Reference Books & Magazines:
— Excellent selection of books available from Dogwise.com on the subject of Therapy and Service Dogs.
---
Note: We are always in need of articles, stories, poems, etc. for the Working Dogs section of the Canada's Guide to Dogs website. — Submissions are welcome and encouraged. Please feel free to contact us.
If you are part of a working dog group and would like to be listed here, simply email us with the details at info@canadasguidetodogs.com and we would be pleased to include your information.