Guide Dogs
General Info / Articles of Interest
A Guide Dog is specially trained to provide mobility and independence to the visually-impaired user. A guide dog provides these services as a loving companion, he has a quiet and calm disposition, a high level of initiative and concentration while working, and a strong will to work.
The most common breeds used in assisting the visually-impaired are Golden Retrievers, Labrador Retrievers, and German Shepherd Dogs. Their intelligence, size and temperament make them ideal Guide Dogs.
In Canada, all provinces have adopted specific statutes to grant Guide Dog users the right of access. In most provinces, the statutes specifically state that no special conditions, terms, or fees can be imposed on a Guide Dog user because of the presence of a Guide Dog.
---
Canadian Guide Dogs for the Blind
Registered Charity No. 106846819 RR0001
(Established 1984)
November 14th, 2011
- NEWS RELEASE -
Canadian Guide Dogs for the Blind Releases Charity Calendar
Canadian Guide Dogs for the Blind has released a 2012 Charity Calendar. The twelve month calendar features over fifty pictures of Labrador and golden retrievers, German shepherds and poodles – breeds that are trained by Canadian Guide Dogs for the Blind. All of the pictures were submitted by volunteers and clients who raise or work with our dogs.
Dog lovers of all kinds can enjoy the calendar. It's the perfect gift for family and friends, and a great way to support Canadian Guide Dogs for the Blind. There are three ways to purchase your calendar: on the online gift shop at guidedogs.ca; by telephone at (613) 692-7777; or in person at Canadian Guide Dogs for the Blind's National Training Centre, located at 4120 Rideau valley Drive North, Manotick. The calendar costs $17.50 (plus shipping & handling if not purchased in person), with all proceeds going towards the raising and training of guide and assistance dogs.
Canadian Guide Dogs for the Blind was established as a registered charity in 1984. Since that time, Canadian Guide Dogs for the Blind has provided professionally trained guide dogs to Canadians who are visually impaired from coast to coast. In 2010, Canadian Guide Dogs for the Blind launched an Assistance Dogs Division, which trains assistance dogs for individuals in the Ottawa area with mobility-related disabilities.
---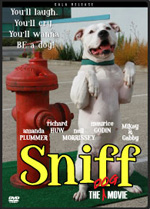 Sniff The DOG Movie
is now available as a limited edition Gala Release DVD!
10% of the proceeds from your purchase will go to a non-profit canine organization.

or
Click here to view more details.
— A fun and informative movie that follows the lives of dogs at work and at play; including the training of Guide Dogs and Search and Rescue Dogs. (Click on the play button below to watch the trailer.)
---
Organizations & Associations
---
---
Note: We are always in need of articles, stories, poems, etc. for the Working Dogs section of the Canada's Guide to Dogs website. — Submissions are welcome and encouraged. Please feel free to contact us.
If you are part of a working dog group and would like to be listed here, simply email us with the details at info@canadasguidetodogs.com and we would be pleased to include your information.