Bullmastiff

Group: Working Dog Group
Origin: Great Britain
Height:
– Males: 25-27 in (63-69 cm).
– Females: 24-26 in (61-66 cm).
Weight:
– Males: 110-130 lbs (50-59 kg).
– Females: 100-120 lbs (45-55 kg). Females are feminine in appearance, of somewhat lighter bone structure than the male, but should still convey strength.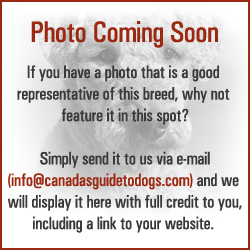 — CanadasGuideToDogs.com is an Amazon Associate as well as a participant in various affiliate programs, as such fees are earned from qualifying purchases.