Rescue Information /
All-Breed Dog Rescues & Shelters
Shelter & Rescue Listings
Select from the menu to find Dog Shelters and Rescues in your Area:
NOTE:
The shelters/rescue organizations listed in this section of the Canada's Guide to Dogs website are NOT breed specific. If you are looking for a rescue or shelter for a specific breed, please
CLICK HERE
to access the breed listings and see that particular breed's information section.
---
---
What to Look for in a Rescue/Shelter
The majority of rescue organizations / shelters found in Canada are reputable and well run; however it is important to do some research to ensure that the organization you are considering is credible. The following is a listing of some of the things that a good organization does:
The responsible rescue places the welfare and happiness of the animal first.
As a first step in the adoption process, an application form should be completed. The rescue/shelter then performs careful screening of potential adopters and verifies references — the goal being to match up the right pet with the right home.
All pets should be spayed/neutered prior to being placed and, if for any reason (ie., too young or some medical reason) spaying/neutering is not done prior to placement, this is included as a requirement within the adoption contract.
All animals ready for adoption should have been examined by a veterinarian and be up to date on vaccines.
All animals ready for adoption should have been temperament tested.
The rescue/shelter should provide full disclosure about the dog, including any medical and/or behavioural problems.
Depending on the pet to be adopted, the rescue may require that adopters participate in training classes.
The rescue/shelter should offer ongoing support to adopters.
A written adoption contract should be provided and should include all requirements/expectations including a clause stating that the pet must be returned to the rescue if the adopter decides to relinquish the pet.
Rescue organizations should be able to provide references from shelters in their area and in general should be working with those shelters.
A reputable rescue operates as a not-for-profit entity and/or registered charity.
Nikki's Story
Before being rescued, Nikki spent most of the first year of her life living outside with very limited contact with people. Today she is a well adjusted, happy young dog. Nikki is proof that dogs with special needs can make wonderful family pets and deserve a chance just like any other. Sadly, these dogs can end up spending a very long time in shelters being overlooked because of their 'disabilities.'
Nikki's video can be seen here and you can read more about her at: www.dogretreat.ca/nikki
---
Oscar's Story

(Note: Oscar, shown in this video, is also seen in the top banner of this page.)
---
Articles of Interest:
---
Web Resources
No Puppy Mills Canada The goal of No Puppy Mills Canada is to inform the general public about Puppy Mills and what are generally termed as "Back Yard Breeders".
Prisoners of Greed — Puppymills Breed Misery — Hundreds of thousands of puppies are raised each year in commercial kennels. They are prisoners of greed. The only way to free them from their misery is to eliminate the demand for puppies by refusing to buy a puppy in a petstore and boycotting those stores that sell puppies.
Canadian Federation of Humane Societies (CFHS) — The national voice of humane societies and SPCAs, bringing together those who work with, and care for animals to promote respect and humane treatment toward all animals.
Information for the Potential Puppy or Dog Owner — If you are considering bringing a puppy or dog into your home, please also see this growing section of the Canada's Guide to Dogs website for important information before you make your decision.
---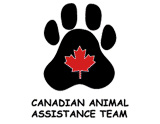 Canadian Animal Assistance Team (CAAT)
Veterinary Professionals Dedicated
to the Care of Animals Worldwide
The Canadian Animal Assistance Team is a group of Veterinarians and Veterinary Technicians whose mission is to impact on the safety, health and population control of domestic animals worldwide.
CLICK HERE to learn more about CAAT.
---
Press releases, newsletters, and web content at a discount for shelters and animal rescues. Learn about the "Animal Writes Funding Project" here: www.thewritecontent.com/animalwrites.html
---
Adopt, Don't Shop!
SMITTY is a movie that spreads the message that lives of both humans and pets can be enriched with pet adoptions.
Please visit the SMITTY website at www.SmittyTheMovie.com and register your pet organization for a chance to be featured in the movie. Then have all of your friends come to www.SmittyTheMovie.com to vote for your organization. The organization with the most votes could win fabulous prizes!
---
Rescue / Shelter Books:
---
FEATURED BOOKS:
NEW LIVES: Stories of Rescued Dogs Helping, Healing and Giving Hope
A newly-released book written by Joanne Wannan, presents stories of hope and inspiration — where the "underdog" really does triumph in the end! The heroes in the book are an unlikely assortment of dogs who were rescued from shelters and the streets. They have gone on to love, serve and, in some cases, save the lives of the compassionate individuals who welcomed these abandoned canines into their hearts and lives.
The book tells of the amazing ways these rescued dogs are working as animal therapists or as service dogs, and how lives — both human and canine — are forever changed. One is Leo, a pit bull rescued from Michael Vick's dog fighting operation, who now visits patients in a chemotherapy ward, and acts as an ambassador for all dogs at a facility for juvenile delinquents.
The foreword is written by Dr. Marty Becker, resident veterinarian on Good Morning America, and co-author of Chicken Soup for the Pet Lover's Soul. Cover endorsements are from the Humane Society, as well as the ASPCA. This book is a testament to the powerful bond between humans and dogs, and affirms the belief that it is never to late for miracles.
For more information, please visit: www.3BlackDogs.org
Also available for purchase at Amazon.ca
and Amazon.com
---
Pieces of My Heart — Writings Inspired By Animals and Nature

by Jim Willis
Author of author of "How Could You?", "The Animals' Savior," "The Basset Chronicles" and other favorites.

"Pieces of My Heart is a soulful, heartfelt tribute to animals and a plea for compassion. As you immerse yourself in its truths you'll reach for the nearest animal to hug, you'll smile through tears, and you'll feel the urge to run barefoot in the grass."

"As a "voice for the voiceless," Jim Willis touches human hearts as deftly as he bonds with the animals he rescues. His writings have inspired animal lovers around the world in over a dozen languages. Now, with publication of his collected writings in the USA and the UK, the Author has made a generous arrangement with the publishers that can benefit the fundraising efforts of all animal rescue, conservation and environmental groups." For more information see www.crean.com/jimwillis

The book can be ordered online at: Chapters.Indigo.ca ; Amazon.ca; and Amazon.com
---
Other Books:
Shelter Dogs — Brought to you by Dogwise.com — A selection of reference books on the subject of rescue dogs.
From Amazon.ca:

Breed Rescue: How to Start and Run a Successful Program
All the information you need to start a breed rescue program! Learn how to get organized, find train, and manage volunteers, gain financial support, screen and place rescued dogs, more. Important reference section includes contacts, addresses, sample documents.
Bridging the Bond: The Cultural Construction of the Shelter Pet
Cast either as necessary evils or benevolent havens, animal shelters are as frequently reviled as they are revered, largely because of a dearth of information and a wealth of innuendo about what actually transpires behind their doors. Part memoir, part ethnography, Harbolt's investigation sheds valuable light on an emotional and often contentious subject by examining with compassion and equanimity the bond that exists between man and beast.
Chosen Puppy: How to Select and Raise a Great Puppy from an Animal Shelter
Select a shelter puppy and you acquire a loving companion and save a life. How to care for and train your chosen puppy.
Found Dogs: Tales of Strays Who Landed on Their Feet
This book has received excellent reviews..."Great, Inspiring Book For Dog Lovers", "Wonderful book". Click on the title link to read full reviews.
Lost and Found: Dogs, Cats, and Everyday Hereos at a Country Animal Shelter
This book has received excellent reviews..."makes you rethink what you know of pets & their humans", "A very realistic view of an animal shelter", "Required reading for all current and wannabe pet owners". Click on the title to read full reviews.
Nobody's Best Friend: Loving & Learning with Adoptive Dogs
Stories of courage and inspiration plus behavior and training tips, clues to understanding the workings of an adult canine mind. Practical information on adopting a shelter dog, too.
Rescue Rover!: 101 Ways You Can Help Abandoned Dogs
Covers almost every conceivable way to contribute to the needs of a dog rescue effort. Also contains rescue group "wishlists," breed rescue contacts and regional rescue addresses and information.
Second Chance: Living with a Rescued Dog
Invaluable advice on training, feeding, exercise, coat care, and in particular coping with behavioral problems that may arise with the rescued purebred or shelter dog.
Second Hand Dog: How To Turn Yours Into A first Rate Pet, 1st Edition
An adopted "second hand" dog can make an excellent pet. With sensitivity, patience and basic training you'll have a first-rate pet.
Shelter Dogs: Amazing Stories of Adopted Strays
Animal lovers will enjoy these eight short stories about shelter dogs going on to do great things.
Successful Dog Adoption
Gentle, expert guidance on how to find and adopt an exceptional canine companion. From popular author, trainer and shelter owner Sue Sternberg.