Search and Rescue Dogs (SAR Dogs)
General Info / Articles of Interest
Organizations & Associations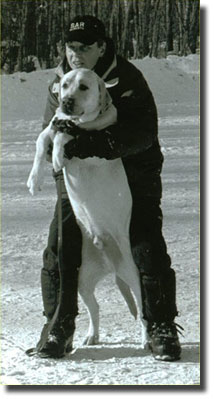 In Canada:
In the U.S.:
Around the World:
---
---
Reference Books:

K9 Search and Rescue
by Resi Gerritsen & Ruud Haak
In a disaster, a trained search and rescue dog can greatly increase the chances of victims being found in time and rescued. This book outlines a new method of training S & R dogs developed by the authors in Austria.

Practical Scent Dog Training
by Lue Button
Step-by-step training guide for air scent, evidence search, disaster search and AKC tracking test.

Tracking for Search and Rescue Dogs: A Practical Manual for Novice and Advanced Handlers
by Boguslaw Gorny
Practical advice on every facet of training dogs for this vital work, from choosing dogs to training tracklayers, from basic training to training with complex search scripts. It is geared to preparing dog and handler for real search situations.

A Practical Guide to Training and Working the Trailing Dog
by John Lutenberg & Linda Porter
A guideline for training and maintenance of the trailing dog. A combination of personal training experience, working knowledge of trailing dogs and training methods and tips from around the nation which have proven to be sound and reliable.
---
Note: We are always in need of articles, stories, poems, etc. for the Working Dogs section of the Canada's Guide to Dogs website. — Submissions are welcome and encouraged. Please feel free to contact us.
If you are part of a working dog group and would like to be listed here, simply email us with the details at info@canadasguidetodogs.com and we would be pleased to include your information.