Detection Dogs / Police Dogs / Military Dogs
General Info / Articles of Interest
Valor Row — From the CPCA — A tribute to K-9 handlers and their canine partners that didn't all make it home at the end of the day.
Eden Consulting Group — Police Dog Home Page — The K9 Academy For Law Enforcement operated by Bob Eden and Gord Ney is a business made up of police officers dedicated to the training of police K9 handlers.
DogSport Gear — Manufacture of working dog equipment for Police, Military and Schutzhund.
War Dogs — A brief history of dogs in military work.
The War Dog Memorial — When U.S. Marines landed war dogs on Bougainville in the South Pacific, 01 November, 1943, it marked the first use of trained military dogs in combat by the United States. Doberman Pinschers, the official U.S. Marine Corps War Dogs, served throughout the South Pacific, courageously leading patrols in the steaming jungles, giving timely warning of the enemy waiting in ambush or hiding in caves, saving untold lives.
US Dog Heroes in Need of Homes

(NEW added 25 April 2012)

Your Dog's Sense of Smell: Sniffing out the Story

(NEW added 25 April 2012)

These Dogs Help Save the Planet — Working Dogs for Conservation (WDC) was created in 2000 to collect information-rich wildlife and plant samples using specially trained detection dogs paired with biologist handlers. Read more.

(NEW added 25 April 2012)

Unlock Your Dog's Talents With K9 Nose Work — K9 Nose Work started as a small group with owners and handlers who wanted to learn more about scent work. K9 Nose Work helps dogs explore and fine-tune their natural abilities. Any breed of dog can do scent work. Read more.

(NEW added 25 April 2012)
---
Organizations & Associations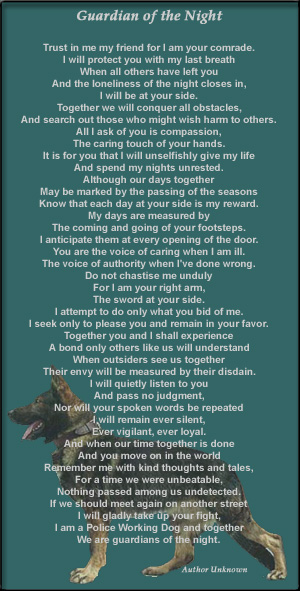 Canadian Police Department K-9 Units:
---
Reference Books: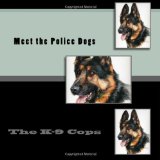 Meet the Police Dogs: The K-9 Cop
By Christy Judah
A children's book to introduce 4 to 11 year-olds to Police Dogs...the K-9 Cop. This delightful book provides an informative view of these specially trained dogs. Photographs throughout this book demonstrate the versatility, intelligence, and extraordinary skills of the police canine. The German Sheperd Dogs, Belgian Malinois, and other breeds shown provide a glimpse into the training and daily work of the modern Police Dog. Meet the Police Dogs, K-9 Cops is a wonderful representation of our hero's, the police dogs, showing authentic police dogs doing their duty.... protecting our communities.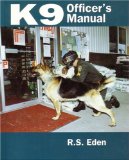 K9 Officer's Manual
By Robert Eden
Inside this book you will find comprehensive information on every aspect of the K9 unit, from administration to officer safety on the job. R.S. Eden presents training exercises and deployment procedures comprised of nearly two decades of personal knowledge and the practical experience of other officers. Action photos back up his points.
Badge on My Collar: A Chronicle of Courageous Canines
By Marilyn Jeffers Walton
How does one fully explain the symbiotic relationship between dog handlers and their dogs? Officers and their dogs mesh into a solid unit that thinks and anticipates as one as they communicate many times in unspoken words. By necessity, theirs is an extremely tight bond. This book is a window into those relationships and the lives of K-9s. It showcases fifteen memorable police and search and rescue dogs and presents their unforgettable stories. A must read for anyone who has ever loved a dog.
Badge on My Collar II: To Serve with Honor
By Marilyn Jeffers Walton
In this sequel to Badge on My Collar-A Chronicle of Courageous Canines, Marilyn Jeffers Walton takes you around the globe to ride along with dogs whose stellar careers and unselfish sacrifices exemplify the brave character and profile of today's police canine.
---
Note: We are always in need of articles, stories, poems, etc. for the Working Dogs section of the Canada's Guide to Dogs website. — Submissions are welcome and encouraged. Please feel free to contact us.
If you are part of a working dog group and would like to be listed here, simply email us with the details at info@canadasguidetodogs.com and we would be pleased to include your information.