Southwestern Ontario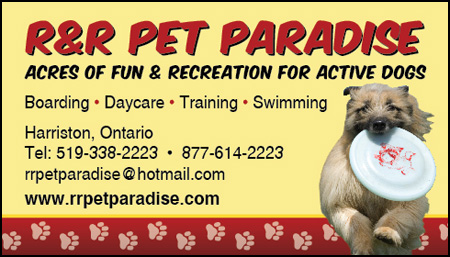 #9449, Road 1 North
Harriston, Ontario
N0G 1Z0
Tel.: 519-338-2223 or 1-877-614-2223
E-mail:
rrpetparadise@hotmail.com
Located on 40 acres, this private retreat offers boarding, daycare and training for your dogs. We provide acres of fun and recreation for active dogs and all the comfort they would have at home.
Please visit our website for more details:
www.rrpetparadise.com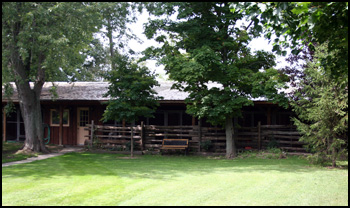 1854 Trinity Rd
Ancaster, Ontario, L9G 3L1
Tel.: 905-648-6955
E-mail:
glensaxon@xplornet.com
Website:
www.aglensaxon.ca
Located in the beautiful rural country setting of Ancaster, Ontario, A. Glen Saxon Kennels Dog Boarding and Cattery offers large indoor/outdoor units, with A/C and heat, single/double units with lots of fresh air, and extras.
At A. Glen Saxon Kennels all our animal guests are provided with kindness and top quality care. We strive very hard to ensure your pet's visit is positive, fun, and a safe experience.
We also offer professional grooming and training.
Check out our web-site - glensaxon@xplornet.com - for more information.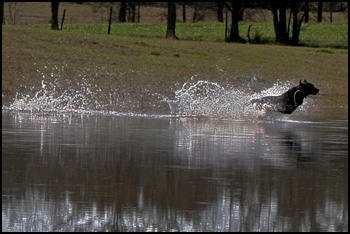 635 Concession 1 Road
Port Rowan, Ontario
N0E 1M0
Tel.: 519-429-9120
Email:
gd@baypointkennel.com
While specializing in Field Trial Retriever Training we offer a host of other services. This includes Obedience training (one-on-one or monthly); Gun Dog training; Pet Sitting or Daycare; Boarding (where we try to specialize to your dogs needs) and Breeding of quality Labrador Retriever puppies. These puppies result from years of selection to provide dogs that are loving, friendly, trainable, eager and retrieving fiends.
As one of our satisfied pup owners states about her pup: "Brains and style! He remains the most joyous creature I have ever known. Thank you again."
For more information, visit our website at: www.baypointkennel.com
---
— Dog Training and Obedience in and around Hamilton.
Offering private 1-on-1 Science and Psychology based Dog Training by Expert Dog Trainers with Animal Science degrees.
---
Note to Trainers: We are pleased to offer advertisement listings to professional Dog Trainers who use dog-friendly and humane training techniques. If you would like to advertise your Training services here, please see the Listings Section for available options.
Accuracy of information for all advertisements is the sole responsiblity of the advertiser and we cannot be held responsible for any misrepresentation. We reserve the right to refuse any listing at our discretion.