Toronto, The Greater Toronto Area, & Surrounding Areas, Ontario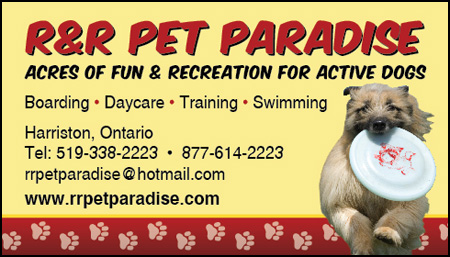 #9449, Road 1 North
Harriston, Ontario
N0G 1Z0
Tel.: 519-338-2223 or 1-877-614-2223
E-mail:
rrpetparadise@hotmail.com
Located on 40 acres, this private retreat offers boarding, daycare and training for your dogs. We provide acres of fun and recreation for active dogs and all the comfort they would have at home.
Please visit our website for more details:
www.rrpetparadise.com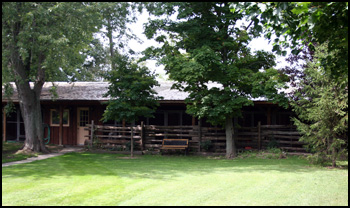 1854 Trinity Rd
Ancaster, Ontario, L9G 3L1
Tel.: 905-648-6955
E-mail:
glensaxon@xplornet.com
Website:
www.aglensaxon.ca
Located in the beautiful rural country setting of Ancaster, Ontario, A. Glen Saxon Kennels Dog Boarding and Cattery offers large indoor/outdoor units, with A/C and heat, single/double units with lots of fresh air, and extras.
At A. Glen Saxon Kennels all our animal guests are provided with kindness and top quality care. We strive very hard to ensure your pet's visit is positive, fun, and a safe experience.
We also offer professional grooming and training.
Check out our web-site - glensaxon@xplornet.com - for more information.
---
39 Upwood Avenue
Toronto, Ontario
M6L 3A4
Tel./Fax: 416-366-3647, 416-366-DOGS
Email: tomrelic@ymail.com
Website: www.academyfordogsinternationalincorporated.com

— All Breed Professional Dog Training School in the GTA operated by an International Certified Dog Trainer since 1984.
— Solving and preventing problems as well as bringing out your dogs fullest potential is our joy and will be your joy too!
| | |
| --- | --- |
| | — One on One, customized in home training. We come to you and teach you to speak dog getting you the results you want faster! Whether it's puppy training/toilet training/crate training or Behaviour modification for problems like aggression and separation anxiety or simple things like jumping up, barking and leash pulling! |
— Dog Training and Obedience in and around Hamilton.
Offering private 1-on-1 Science and Psychology based Dog Training by Expert Dog Trainers with Animal Science degrees.
Suite 370 - 6021 Yonge Street
North York, Ontario, M2M 3W2
Phone: (416) 222-4109
Email: info@nyoc.ca
Website: www.nyoc.ca

— NYOC has been training Toronto's dogs for over 50 years. Located in north-central GTA in the Yonge & Steeles area, NYOC is a not-for-profit club offering Fall, Winter and Spring classes for puppy/family pet to competitive levels.
| | |
| --- | --- |
| | — PAWS-ITIVE PUPPIES offers training/socialization classes for puppies and their families using gentle, practical methods. We give you the tools to assist in shaping your puppy's attitude before bad habits begin. Your puppy will learn self-confidence through socializing with other puppies and families. Using positive reinforcement and gentle techniques we will help you develop the groundwork for an enjoyable lifetime relationship with your new family member! We encourage all family members to attend and participate. |
— Marcia Murray-Stoof is a Certified Professional Dog Training Instructor and Certified Canine Behaviourist (B.Sc) with over 30 years experience. Her Motto is "Causing Pain is no way to Train."
— Teaching Group Classes from Puppy to Advanced also Canine Good Neighbour, Therapy Dog, Companion Dog Title Courses, as well as FUNgility, Rally-O and Scenting Classes. Conformation Classes all breeds. ($135.)
— Private in your home Training and Behaviour sessions also available. ($45. per hour)
— Service Dog Assessment & Training available.
— The Academy is a Training ONLY facility, no Daycare or Boarding. The Academy is heated and air-conditioned and we have a field for Summer Sport Classes.
---
Note to Trainers: We are pleased to offer advertisement listings to professional Dog Trainers who use dog-friendly and humane training techniques. If you would like to advertise your Training services here, please see the Listings Section for available options.
Accuracy of information for all advertisements is the sole responsiblity of the advertiser and we cannot be held responsible for any misrepresentation. We reserve the right to refuse any listing at our discretion.