Central Ontario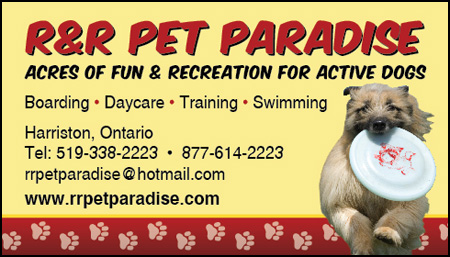 #9449, Road 1 North
Harriston, Ontario
N0G 1Z0
Tel.: 519-338-2223 or 1-877-614-2223
E-mail:
rrpetparadise@hotmail.com
Located on 40 acres, this private retreat offers boarding, daycare and training for your dogs. We provide acres of fun and recreation for active dogs and all the comfort they would have at home.
Please visit our website for more details:
www.rrpetparadise.com
— Marcia Murray-Stoof is a Certified Professional Dog Training Instructor and Certified Canine Behaviourist (B.Sc) with over 30 years experience. Her Motto is "Causing Pain is no way to Train."
— Teaching Group Classes from Puppy to Advanced also Canine Good Neighbour, Therapy Dog, Companion Dog Title Courses, as well as FUNgility, Rally-O and Scenting Classes. Conformation Classes all breeds. ($135.)
— Private in your home Training and Behaviour sessions also available. ($45. per hour)
— Service Dog Assessment & Training available.
— The Academy is a Training ONLY facility, no Daycare or Boarding. The Academy is heated and air-conditioned and we have a field for Summer Sport Classes.
---
Note to Trainers: We are pleased to offer advertisement listings to professional Dog Trainers who use dog-friendly and humane training techniques. If you would like to advertise your Training services here, please see the Listings Section for available options.
Accuracy of information for all advertisements is the sole responsiblity of the advertiser and we cannot be held responsible for any misrepresentation. We reserve the right to refuse any listing at our discretion.