BREED DESCRIPTION & INFORMATION
Vihar, Three Times World Winner in Europe
Photo: Koves Berci Betyar Mudi Kennel

Breed Registries:
---
Note: The breed may also be recognized by other registries not indicated here. For further details about dog registries, please see the document: Dog Breed Registries in North America.
** — The FCI is the World Canine Organization, which includes 84 members and contract partners (one member per country) that each issue their own pedigrees and train their own judges. The FCI recognizes 339 breeds, with each being the "property" of a specific country. The "owner" countries of the breeds write the standards of these breeds in co-operation with the Standards and Scientific Commissions of the FCI, and the translation and updating are carried out by the FCI. The FCI is not a breed registry nor does it issue pedigrees.
---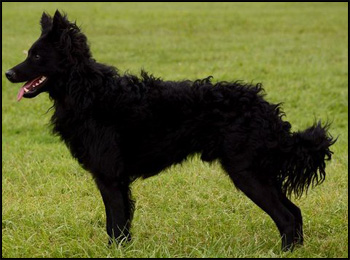 Photo credit: Koves Berci Betyar Mudi Kennel
Origin:
Hungary
Height:
Males - 16-18 inches (41-47 cm)
Females - 15-17 inches (38-44 cm)
Weight:
Males - 24-29 lbs (11-13 kg)
Females - 18-24 lbs (8-11 kg).
Brief History of the Mudi:
The Mudi has been in existence in Hungary since the nineteenth century. It is believed that the breed evolved naturally from crossing the Puli, Pumi and German Spitz type breeds. In 1936, the dogs' distinguishing prick ears led to the classification of the breed. Considered a rare breed, it is estimated that there are only a few thousand Mudik worldwide, with the highest population being in Hungary.
For more information on the history of the Mudi, see:
Breed Profile:
The Mudi is an active, intelligent working dog. Not only do they excel at herding but quite often they participate in many dog sports, including agility, flyball, and obedience. Mudik are also seen working in Search and Rescue as well as drug detection.
In general, the Mudi is a friendly and playful dog that is neither shy nor fearful. The breed is first and foremost a working dog, primarily bred to herd sheep and, with their courageous disposition, shepherds use them to herd large and difficult livestock. As with many of the herding breeds, they are very intelligent and intense in their jobs.
Health Issues
If you are considering the adoption of a Mudi puppy, or any breed, it is very important to be selective in choosing a responsible and reputable breeder. Ensure that the prospective puppy's parents have all health clearances. Breeding of any dog should not be done until after they have been proven to be free of evidence of significant hereditary diseases. (For more information on selecting a breeder, see the articles on the main Breed Listing and Breeders page.)
Additional Health Resources:
Breed Standards
Photo showing three colours of Mudik
Photo credit: Tiszai Hullamtoro Mudi Kennel
Grooming Information
Training Resources
Training Tools & Equipment
Choose from a wide variety of items from Dogwise.com
Additional Information
Select from the following links to view Breeder listings; Breed Clubs; Rescue Organizations; as well as Books and other Merchandise specific to the breed: