TORONTO & THE GREATER TORONTO AREA, ONTARIO
---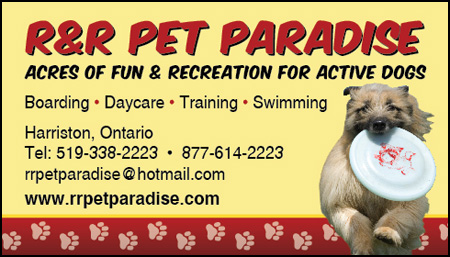 #9449, Road 1 North
Harriston, Ontario
N0G 1Z0
Tel.: 519-338-2223 or 1-877-614-2223
E-mail:
rrpetparadise@hotmail.com
Located on 40 acres, this private retreat offers boarding, daycare and training for your dogs. We provide acres of fun and recreation for active dogs and all the comfort they would have at home.
Please visit our website for more details:
www.rrpetparadise.com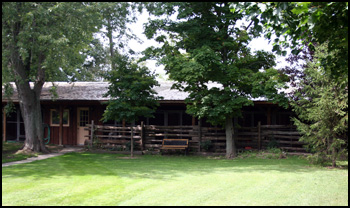 1854 Trinity Rd
Ancaster, Ontario, L9G 3L1
Tel.: 905-648-6955
E-mail:
glensaxon@xplornet.com
Website:
www.aglensaxon.ca
Located in the beautiful rural country setting of Ancaster, Ontario, A. Glen Saxon Kennels Dog Boarding and Cattery offers large indoor/outdoor units, with A/C and heat, single/double units with lots of fresh air, and extras.
At A. Glen Saxon Kennels all our animal guests are provided with kindness and top quality care. We strive very hard to ensure your pet's visit is positive, fun, and a safe experience.
We also offer professional grooming and training.
Check out our web-site - glensaxon@xplornet.com - for more information.
2829 Concession 5
Loretto, Ontario
Tel.: 519-940-5049 & 905-729-2117
E-mail:
info@carissimakennels.com
Here at Carissima Kennels, we've been known for years as the best source in Canada for purebred, high quality German Shepherds. We are proud to announce that the excellent care that we provide to our own dogs is now available to your dog as well at our new dog boarding facility.
Quality Care You Can Trust
Our extensive experience caring for the dogs we breed makes us the perfect choice to care for your dog while you are away. Your dog will enjoy excellent care from people who love dogs in addition to the beautiful scenery at our 106-acre farm located near Orangeville, Ontario. We know that dogs need room to run and exercise, and we provide plenty of opportunity for your dog to have the experience of a lifetime.
For more information, visit our website at www.carissimakennels.com
Boarding Kennels
Dog Daycare Centres
Pet Sitting
Dog Walking
Other Pet Services
Pet Photography / Pet Portraits & Art:
Pet Transportation:
Waste Removal:
---
Note to Pet Services Businesses: We are pleased to offer advertisement listings to all Pet Service Businesses, including Boarding Kennels, Daycare Centres, Pet Sitters, Dog Walkers, Pet Photographers, and any other business that serves the dog industry. If you would like to advertise your business here, please see the Advertising Section for available options.
Accuracy of information for all advertisements is the sole responsiblity of the advertiser and we cannot be held responsible for any misrepresentation. We reserve the right to refuse any listing at our discretion.