EASTERN ONTARIO
---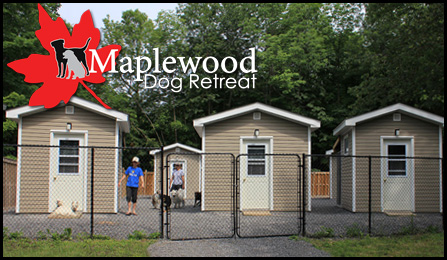 8641 Marionville Road, RR#1
Winchester, Ontario K0C 2K0
Tel.: 613-774-0128
E-mail:
info@dogretreat.ca
Website:
www.dogretreat.ca
We are a small family-owned boarding kennel located south of Ottawa, Ontario, on 25 acres of maple bush and groomed walking trails. We are a licensed facility and we are recommended by local veterinarians.
We provide you with peace of mind knowing that when your dog stays with us, he is in a safe, cage-free environment. Our goal is to ensure that your pet's visit is as stress-free as possible with lots of exercise, socializing, and one-on-one care and attention.

CLICK HERE to watch our video and visit our website: www.dogretreat.ca for further details.
Boarding Kennels
---
Dog Daycare Centres
---
Pet Sitting
---
Dog Walking
---
Other Pet Services
Animal Behaviourists:
Pet Hydrotherapy and Alternate Therapy:
Pet Photography:
Waste Cleanup & Removal
---
Note to Pet Services Businesses: We are pleased to offer advertisement listings to all Pet Service Businesses, including Boarding Kennels, Daycare Centres, Pet Sitters, Dog Walkers, Pet Photographers, and any other business that serves the dog industry. If you would like to advertise your business here, please see the Advertising Section for available options.
Accuracy of information for all advertisements is the sole responsiblity of the advertiser and we cannot be held responsible for any misrepresentation. We reserve the right to refuse any listing at our discretion.