OKANAGAN VALLEY (KELOWNA / VERNON) PET SERVICES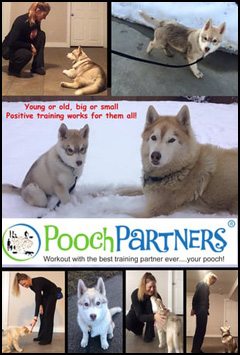 Vernon, British Columbia
Tel.: 250-308-5457
E-mail:
bark@poochpartners.ca
OBEDIENCE & CANICROSS TRAINING VIDEOS NOW AVAILABLE ON VIMEO ON DEMAND!
Don't leave your dog behind — Pooch Partners offers fitness training and fun outdoor activities for people & their dogs that reinforce obedience while you both get a great workout!
• Small group fitness classes
• Obedience training
• Reactive Rover training
• Learn to run programs

• Intro to canicross
• Intro to skijoring & kick sledding
• Intro to weight pulling
• Intro & advanced nose work

• Trick training
• Snowshoe & hiking adventures
• Annual Doggie Duathlon
• CCGC certification testing

A great bonding experience & a ton of fun!
Our safe, effective, fun & challenging outdoor activities will provide the exercise that you both need to be happy and healthy!
Working out with your dog will become the best part of every day!
www.poochpartners.ca
Contact us to get Pooch Partners in your area.
Boarding Kennels
---
DOG DAYCARE CENTRES
---
PET SITTING
None listed at this time.
---
DOG WALKING
None listed at this time.
---
OTHER PET SERVICES
---
Note to Pet Services Businesses: We are pleased to offer advertisement listings to all Pet Service Businesses, including Boarding Kennels, Daycare Centres, Pet Sitters, Dog Walkers, Pet Photographers, and any other business that serves the dog industry. If you would like to advertise your business here, please see the Advertising Section for available options.
Accuracy of information for all advertisements is the sole responsiblity of the advertiser and we cannot be held responsible for any misrepresentation. We reserve the right to refuse any listing at our discretion.